Ukrainian forces gain fire control over Bakhmut-Horlivka highway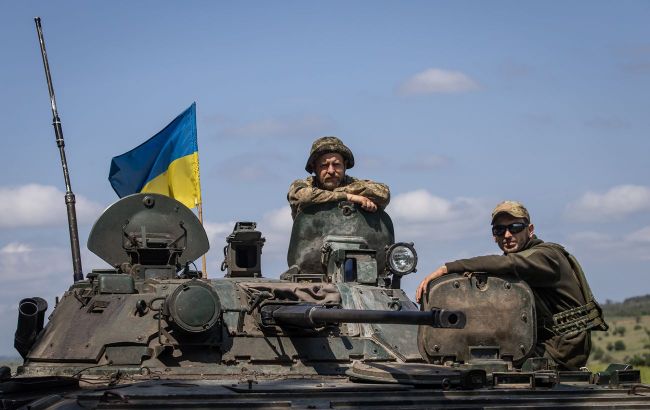 Ukrainian soldiers (Getty Images)
The Ukrainian Armed Forces continue their offensive actions in the Bakhmut direction. Ukrainian soldiers have already gained fire control over the Bakhmut-Horlivka highway, significantly complicating the logistics of Russian forces, according to the spokesperson of the Eastern Military Group of the Ukrainian Armed Forces Illia Yevlash.
"The fighting is ongoing dynamically on both sides, but the types of operations differ. In the Kupiansk-Lyman direction, we are defending, trying to hold back the enemy's onslaught, while in Bakhmut, we are making progress and continue to push Russians from their positions," Yevlash said.
According to him, the Russians have not abandoned their goal to capture the entire Luhansk and Donetsk regions. In particular, in the Bakhmut direction, the enemy is currently intensively trying to regain positions in the liberated Andriivka and Klishchiivka, as they are crucial for the Bakhmut defense.
The distance from Klishchiivka to Bakhmut is 7 kilometers. The exposure of this flank gives the Ukrainian Armed Forces the opportunity to inflict more artillery strikes on the concentration of Russian personnel, their command posts, and equipment.
(deepstatemap.live)
"Getting close to Andriivka and Klishchiivka allows us to approach the Bakhmut-Horlivka highway, which is already under our fire control. Mortars and anti-tank units are already reaching there. Therefore, the enemy's supplies in this direction have already significantly complicated and will worsen in the future," Yevlash noted.
He also mentions that Ukrainian fighters continue their offensive operation on the southern flank near Bakhmut and have achieved success in the areas of Andriivka, Odradivka, and Kurdiumivka.
Yevlash adds that the Ukrainian Armed Forces continue to strike where the occupiers least expect it and are moving forward with significantly fewer forces compared to the enemy, despite the enemy's air superiority.
According to him, the Russian army is suffering 7-8 times more losses in defense than the Ukrainian army is in the offensive.
The encirclement of Bakhmut
In May, the commander of the Eastern Military Group of the Ukrainian Armed Forces, Oleksandr Syrskyi, stated that the Ukrainian Armed Forces were approaching the operational encirclement of Bakhmut.
At the end of July, an expert in a comment for RBC-Ukraine noted that despite a shortage of artillery and seemingly modest territorial successes, the advancement of Ukrainian forces in the Bakhmut area is evident, although the city is not currently encircled.
If the existing dynamics persist, the Russians will eventually lose Bakhmut, as the Ukrainian Armed Forces are creating all the conditions to achieve this goal.
Recently, military expert Vladyslav Seleznov mentioned in a comment to RBC-Ukraine that when the Ukrainian Armed Forces cut off the Horlivka - Bakhmut road, the Russians would have to use other roads, and it would worsen the logistics burden.
However, it is currently too early to speak about the operational encirclement of Bakhmut.