Ukrainian drones target Russians' polling station during pseudo-elections in Zaporizhzhia region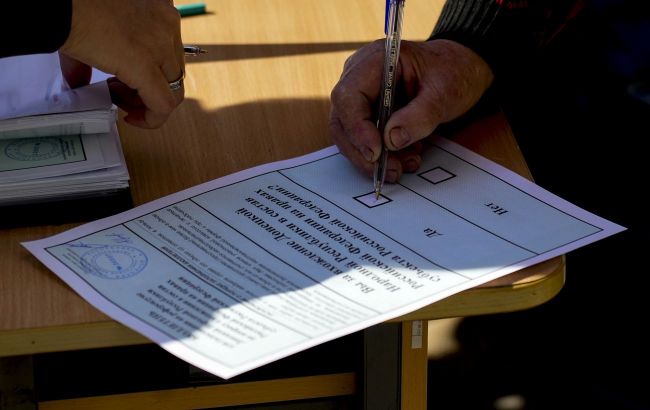 Ukrainian drones target Russians' polling station in Zaporizhzhia region (Getty Images)
Ukrainian kamikaze drones attacked Russians' so-called polling station in Blahovishchenka, Zaporizhzhia region. As a result of the attacks, the invaders' ballots, which they had been delivering for 10 days, were damaged, according to sources in the Security Service of Ukraine (SSU).
"Ukrainian kamikaze drones 'checked out' the conditions of ballot storage at the occupiers' polling station. During the illegal Russian pseudo-elections in the temporarily occupied Blahovishchenka, Zaporizhzhia region, three kamikaze drones attacked a polling station where already filled ballots were stored," the source said.
According to our information, the SSU was responsible for this operation.
The occupiers transported the ballots there over a period of 10 days during the remote voting from all settlements of the Blahovischenska amalgamated territorial community (including Blahovischenka, Ivanivka, Novodniprovka).
However, after three morning attacks, this polling station failed to function and the ballots filled out at gunpoint were damaged.
The source added that the information about the explosions at this polling station has greatly unnerved members of other polling stations in the region.
Pseudo-elections under attack
Recently, on August 30, the Security Service of Ukraine launched a swift attack against traitors and collaborators who were planning elections in the occupied part of the Zaporizhzhia region.
That was when Ukrainian drones targeted the so-called polling station in Kamyanka-Dniprovska just as the gathering of "heads of polling station commissions" for the entire district was taking place, resulting in many casualties.
Russians hold elections in occupied territories
In addition, Russians are once again conducting illegal pseudo-elections in temporarily occupied territories of Ukraine.
From September 8 to 10, Russia held pseudo-elections at various levels, including by-elections for State Duma deputies, elections of heads of several regions, and legislative body deputies on the occupied territories.
Such actions by the Russians have already been condemned by the EU, and Ukraine's Permanent Representative to the UN has called on the international community to impose tough sanctions against Russia in response to these actions.