Ukrainian defenders receive another 170 drones from the 'Steel Front'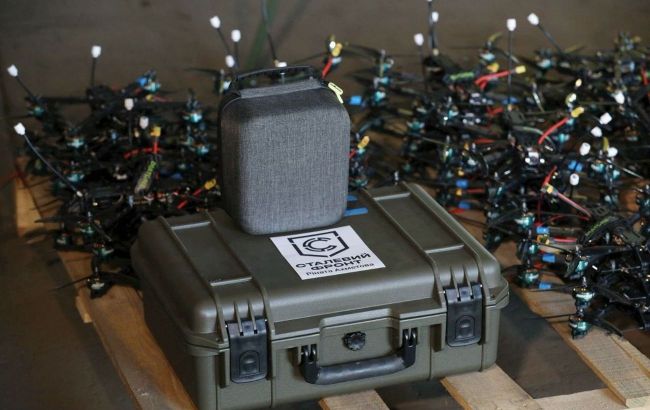 Ukrainian defenders receive another 170 drones from the 'Steel Front' (Photo: press service)
The company "Ukrtelecom" has procured and delivered 170 specialized drones to the military on behalf of Rinat Akhmetov's Steel Front. The drones, manufactured by reliable Ukrainian producers, have been sent to various units of the Ukrainian Armed Forces.
"Right now, everyone is doing everything possible for victory. It demonstrates the unity of our country. The support of our soldiers by Ukrainian companies is needed and important. We are grateful to 'Ukrtelecom' and Rinat Akhmetov's Steel Front for their assistance," commented a representative of the Ukrainian Armed Forces at the event.
Previously, "Ukrtelecom" had delivered several batches of other UAVs to the Ukrainian Armed Forces, including Leleka, Valkyrja, Mavic, and more. In total, the company's assistance exceeded 65 million hryvnias.
"Since the beginning of the full-scale war, 'Ukrtelecom' has already assisted the defenders of Ukraine worth 65 million hryvnias. This includes drones, medicines, hardware and software complexes for combat control, corporate vehicles, etc. Today, with pride and great respect, we are handing a batch of specialized drones to the Armed Forces. The support of Ukrainian businesses to the Ukrainian Armed Forces is critical because together, we are approaching our victory over the enemy," said Yuriy Kurmaz, the CEO of "Ukrtelecom."
Currently, more than 350 employees of "Ukrtelecom" are defending Ukrainian territory within the ranks of the Ukrainian Armed Forces.
Rinat Akhmetov's Steel Front is a joint initiative for assisting the Ukrainian Armed Forces from all of the businessman's enterprises. Since the start of the ongoing war, Rinat Akhmetov has directed over 6 billion hryvnias in support of the military and civilians in Ukraine.