Ukrainian basketball team star moved to Spanish championship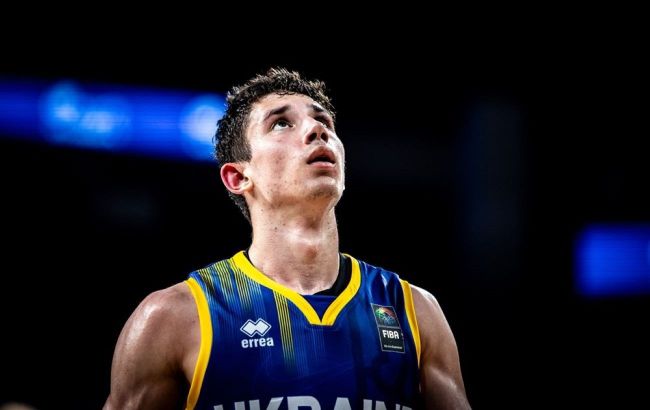 Oleksandr Kovliar in the ranks of the Ukrainian national team (fiba.basketball)
Ukrainian national team defender, Olexander Kovliar, has traded the Estonian team Kalev for Obradoiro from Santiago de Compostela in Spain, according to the official Twitter account of the club.
The 21-year-old Ukrainian will continue his career in the Liga Endesa. His compatriot, Artem Pustovyi, is also defending the colors of the Galician team.
Kovliar moved to Obradoiro from the Latvian-Estonian basketball league. The graduate of the Southern Chemist initially played for Tartu Ulikool there, and before the 2022/23 season, he joined Kalev. With the club, he won the Estonian Cup, reached the semi-finals of the FIBA Europe Cup, the Final Four of the LEBL, became the champion of Estonia, and was the MVP of the local championship finals.
In the current season, Kovliar has played for Kalev in the Champions League qualifiers, the regular LEBL championship, and the FIBA Europe Cup. His average stats in Eurocups are 15.8 points, 4.3 rebounds, 6.8 assists, 1.3 steals, and 2.3 turnovers in approximately half an hour on the court.
About Obradoiro
Founded in 1970, the basketball club is the winner of the Princess of Asturias Cup in 2011 and a nine-time champion of the Galician Cup.
The team has participated in the Liga Endesa for the last 12 seasons, with its best result being an 8th-place finish in the 2012/13 season. Moncho Fernandez has been the team's unchanged coach since 2010. The home arena, Fontes do Sar, accommodates 5,824 spectators.
Obradoiro previously retired jersey numbers 4 and 15, worn by American Bernard Hopkins and Spaniard Oriol Junyent. Currently, the team is in 9th place in the Spanish championship with a record of 4 wins and 5 losses.