Ukraine to receive Slinger anti-drone systems: May shoot down helicopters and Shaheds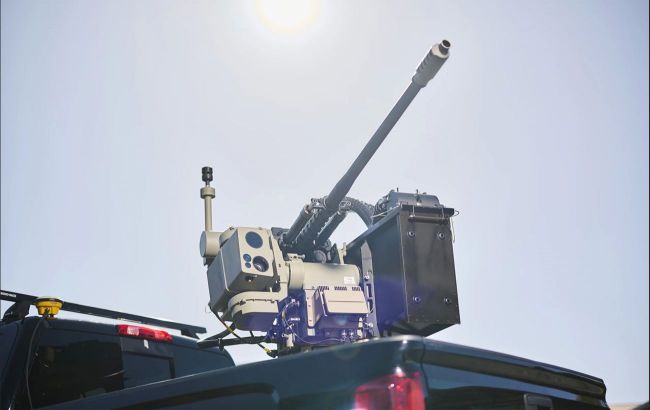 Ukraine will receive Slinger anti-drone systems from the USA (Photo: eos-aus com)
Ukrainian military will receive Slinger anti-drone systems produced by the Australian company Electro Optic Systems, according to Matt Jones, EOS Executive Vice-President for Defence Systems.
Jones mentioned that the company conducted trials of the systems over the last three weeks near Sydney. The Slinger complex is based on the 30mm M230LF cannon and the 7.62mm MAG58 machine gun and is installed on a GMC Denali pickup truck.
Key features of Slinger
The system is equipped with thermal and night vision sights. The 30mm cannon is suitable for targeting vehicles and other airborne targets such as helicopters. The M230LF can fire in single shots at 100 or 200 rounds per minute.
As Jones revealed, Ukraine will receive 110 systems, which will be mounted on M113 vehicles, and an additional 50 systems under the name "Practice," which will be installed on Bushmaster armored vehicles. The cost of one system is approximately $170 million.
"This technology is actually going to Ukraine. The hard kill engagement Slinger system have been purchased by the US for donation to Ukraine. The laser technology is still being finished in terms of development so that's not currently under consideration," he said.
The video of Slinger tests has also appeared online, showing Ukraine's Ambassador to Australia, Miroshnychenko, personally operating the system.
Ukrainian ambassador tested EOS' Slinger hard kill counter-drone system pic.twitter.com/b3gnQDfOMM

— Dylan Malyasov (@MalyasovDylan) September 1, 2023
Australia's assistance to Ukraine
Australia, a country not part of NATO, is one of the largest countries providing Ukraine aid, ammunition, and defense equipment. In addition to the Slinger systems, Australia will transfer Bushmaster armored vehicles to Ukraine.
It's important to mention that the Australian defense company Electro Optic Systems has signed a contract with the Ukrainian state-owned foreign trade enterprise "SpetsTechnoExport" to supply up to a hundred of its Remote Weapon Systems (RWS) to Ukraine.
RBC-Ukraine also reported that the Australian government has imposed sanctions on Russian officials and around 1,000 individuals and entities from Russia.