Ukraine-Russia prisoner exchange on August 7: Ukraine welcomes back 22 soldiers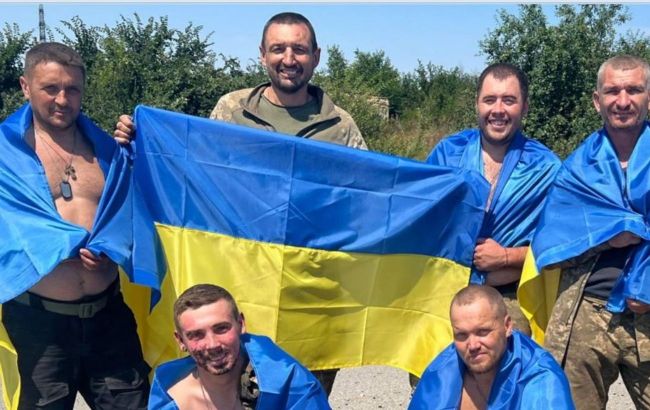 Ukraine successfully completed a prisoner exchange with Russia, resulting in the return of 22 military personnel on August 7 (Photo: t.me/ermaka2022)
According to the Telegram channel of Andriy Yermak, the head of the President's Office, on August 7 Ukraine successfully completed a prisoner exchange with Russia, resulting in the return of 22 military personnel who had been held captive.
"Today, an additional 22 Ukrainian soldiers have been brought back home from captivity," Yermak wrote.
Among these individuals, there were members of the Armed Forces of Ukraine, including two officers and personnel of various ranks such as privates and sergeants.
These released soldiers had actively participated in combat operations across different fronts, with some among them having sustained injuries. Notably, the age range of the returned soldiers is quite diverse, with the eldest being 54 years old and the youngest being 23 years old, as emphasized by Yermak.
Photos and videos revealed by Coordination Headquarters show release of over 20 Ukrainian military personnel on August 7.
A visual record of the release of more than 20 Ukrainian Armed Forces personnel on August 7 was shared by the Coordination Headquarters for Handling Prisoners of War. The images and videos highlighted the momentous event that transpired between Ukraine and Russia.
Ukraine-Russia prisoner exchange
On July 6, another exchange of prisoners took place between Russia and Ukraine, demonstrating a continuation of diplomatic efforts. Among those who returned to their homeland were two officers, 41 enlisted personnel, sergeants, a civilian employee of 'Azovstal,' and a fighter of Territorial Defense Forces hailing from Kherson.
Moreover, a somber note underscores the situation, as Ukraine mourns the loss of 44 more servicemen who tragically perished in clashes with occupying forces. Their remains were solemnly repatriated on August 4, further highlighting the gravity of the ongoing conflicts."