Ukraine-Japan call: Zelenskyy and Japanese Prime Minister discuss Russian aggression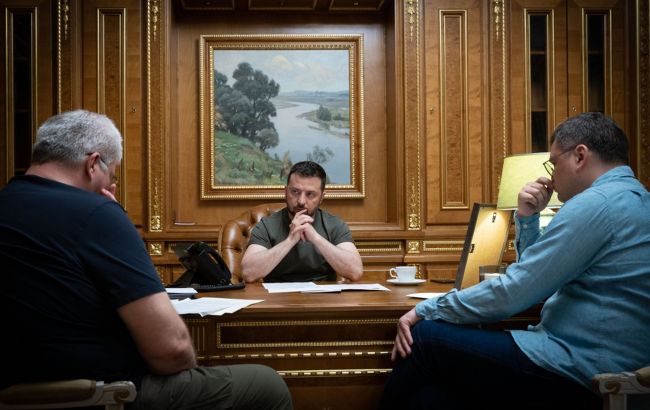 President of Ukraine Volodymyr Zelenskyy (president gov ua)
President of Ukraine Volodymyr Zelenskyy and Prime Minister of Japan Fumio Kishida held a phone conversation, discussing the aftermath of the Russian blowing up of the Kakhovka Hydroelectric Power Plant. This was reported by the Office of the President.
Zelenskyy thanked the Prime Minister for hosting the G7 summit and described Japan's chairmanship as successful.

The President informed the Prime Minister of Japan about the consequences of Russia blowing up the Kakhovka HPP and his visit to the southern regions of Ukraine that ended up in the disaster zone. He also noted that the destruction of the hydroelectric power plant poses a threat to the safety of the Zaporizhzhia NPP.
"The aggressor has caused a large-scale man-made, environmental and humanitarian catastrophe. This is a deliberate act of terrorism and another war crime of Russia," the Head of State said.
The Japanese Prime Minister expressed solidarity with the Ukrainian people and announced that Japan is preparing a humanitarian aid package for Ukraine, taking into account the list of priority needs provided by the Ukrainian side.
The leaders discussed the situation on the front lines, Japan's assistance in demining and reconstruction efforts in Ukraine, as well as the peace formula. Fumio Kishida said that Japan is ready to host a conference on Ukraine's recovery at the beginning of next year.
World's reaction to Russia blowing up the Kakhovka HPP
The Russians detonated the dam of the Kakhovka HPP on the night of June 6. However, the international community has been very cautious in responding to Russia's terrorist act. The UN tweeted a greeting for Russian Language Day in the morning of the incident, and several Western media outlets expressed doubts about Russia's involvement in the dam explosion.
President Volodymyr Zelenskyy criticized international organizations for their inaction, particularly targeting the International Committee of the Red Cross and the UN.