U.S. Treasury Secretary backs plan to introduce tax on income from frozen Russian assets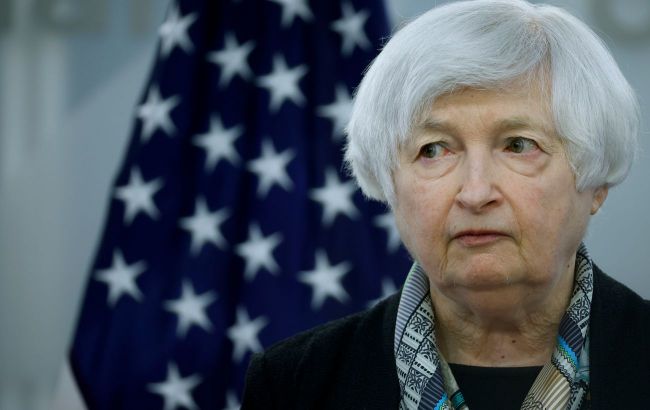 Photo: U.S. Treasury Secretary Janet Yellen (Getty Images)
U.S. Treasury Secretary Janet Yellen supports European Union's plan to introduce tax on income from frozen Russian assets, calling it a "sensible" way to aid Ukraine's recovery, according to Bloomberg.
"This seems like a reasonable proposal," Yellen said, adding that the US is discussing the idea with the EU. "It's a different thing than seizing the assets."
Yellen mentioned that the United States is in discussions with the EU regarding this idea and emphasized that it differs significantly from asset confiscation.
Pressure had been mounting on the U.S. administration, including from within President Joe Biden's team, for the direct seizure of funds, a move Yellen noted would be illegal under current law. A similar conclusion was reached by the EU's legal service, leading to the alternative idea of taxing the income derived from frozen assets.
The possibility of utilizing income from Russian funds in the interest of Ukraine could boost support for further assistance to Kyiv amid ongoing conflict. The White House is urging the U.S. Congress to approve an additional $24 billion in aid.
Yellen and other U.S. officials are considering endorsing this proposal to help resolve debates about it in Europe, according to a source familiar with the matter.
Confiscation of Russian assets
Ukraine, in coordination with international partners, is working on establishing a mechanism to confiscate frozen Russian assets, including state-owned assets, in allied countries. These funds are intended for Ukraine's reconstruction efforts, amounting to $500 million.
Additionally, Bloomberg reports that the EU is exploring the process of confiscating €200 billion worth of frozen assets belonging to the Russian Central Bank.
For more information on how the Ukrainian government plans to access and utilize Russian assets abroad and whether partners are willing to confiscate Russian funds and transfer them to Ukraine, please refer to RBC-Ukraine's coverage.