U.S. imposes new large-scale sanctions against Russia: Factories, banks and more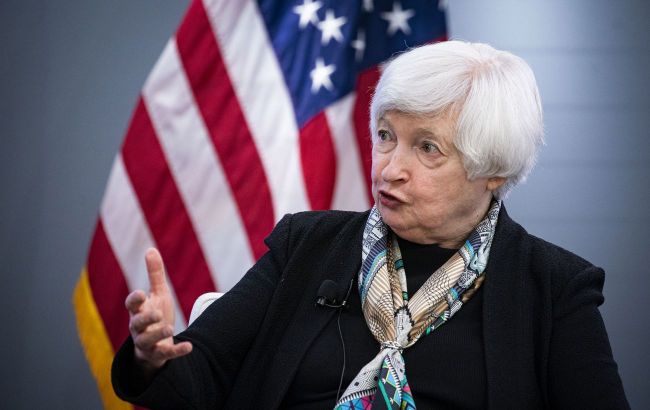 U.S. Treasury Secretary Janet Yellen (Getty Images)
The United States of America has imposed a new package of sanctions against Russia today, September 14th. The sanctions target plants, banks, and vessels, according to the U.S. Department of the Treasury.
Restrictions against Russian billionaires
The following individuals are subject to U.S. sanctions:
Iskandar Mahmudov;
Andrei Bokarev;
Olga Syrovatska;
Jahangir Mahmudov;
Mkrtych Okroyan;
Alla Baban;
Anna Okroyan;
Andranik Okroyan;
Harutyun Okroyan;
Ihor Altushkin.
The sanctions include 24 individuals, including citizens of Georgia and Poland.
Businesses affected by the sanctions include:
AvtoVAZ
Moskvich
Transmashholding
Rosavtodor
NVO Saturn
Sincere Bank
Russian Copper Company
United Metallurgical Company
Sollers
The U.S. Department of the Treasury specifies that, in addition to Russian companies, legal entities from Belgium, the UAE, Slovenia, Turkey, and the Central African Republic have also been subjected to sanctions. In total, almost 150 legal entities came under U.S. restrictions.
The United States has also imposed sanctions against two floating storage tankers flying the Panamanian flag.
U.S. Treasury Secretary Janet Yellen clarifies that the new sanctions are aimed at the Russian elite and the Russian industrial base, financial institutions, and technology suppliers.
Information from Reuters
The agency reports that the administration of U.S. President Joe Biden plans to add five Turkish companies and one Turkish citizen to the sanctions list.
The entities added to the sanctions list, which includes shipping and trading companies, are accused of assisting in repairing vessels linked to the Russian Ministry of Defense, which are subject to sanctions, and aiding in the transfer of "dual-use goods."
Reaction of Ukraine
The head of the Office of the President of Ukraine Andriy Yermak says that the introduction of new sanctions against the Russian Federation is a very important step of Ukrainian allies
"Companies and people who help the Russian military industry, are involved in the production of missiles, UAVs, and also supply electronics and components, without which the process of weapons production would be impossible, have been sanctioned," Yermak wrote.
Restrictions were also imposed against Finnish companies - Siberica and Luminor - and their Estonian and French employees, who were involved in the supply of electronic components to Russian enterprises - such as drone cameras, lithium batteries, and optical filters.
The United States is increasing its sanctions pressure on Russia
U.S. Department of State Spokesperson Matthew Miller stated that the United States will closely monitor the meeting results between Russian dictator Vladimir Putin and his North Korean counterpart Kim Jong-un and is prepared to impose new sanctions on countries if arms supplies are agreed upon.
U.S. Secretary of State Antony Blinken previously stated that those involved in Russia's pseudo-elections in the occupied territories of Ukraine risk falling under U.S. sanctions.
Last week, the U.S. Department of Commerce revoked export privileges for Russian company "Elektrokom VPK" and its employees for 180 days. They are considered to be involved in assisting in circumventing sanctions against Russia.