Trial of detained "Aidar" soldiers underway in Russia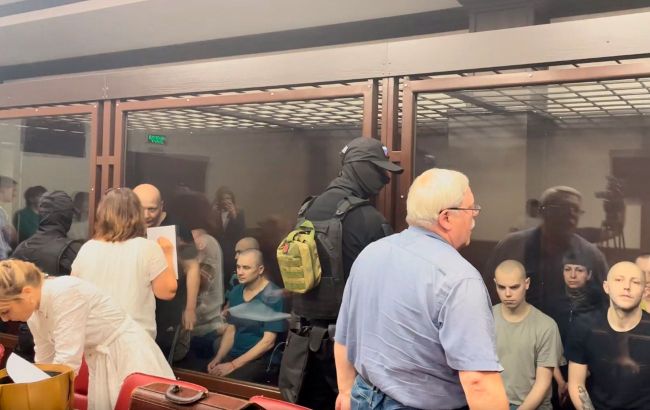 Photo: Trial of detained "Aidar" soldiers underway in Russia (screenshot from video)
According to the Russian media TASS, Southern Military District Court of Rostov-on-Don has commenced hearings concerning 18 Ukrainian prisoners of war from the "Aidar" battalion.
It should be noted that the "Aidar" battalion is recognized as an extremist organization in Russia, and its activities are prohibited in the aggressor country.
Earlier, an attorney representing one of the accused, Pavlo Kosovan, informed the propagandists that the detainees are charged with several articles of the Criminal Code of the so-called "DNR" (Donetsk People's Republic). These charges include alleged "seizure of power and change of the constitutional order" in the "DNR," as well as involvement in the activities of a terrorist organization.
During the trial, these charges will be requalified under the Criminal Code of Russia.
"Aidar" Battalion
The 24th Separate Assault Battalion "Aidar" is a unit of the Ukrainian Ground Forces, which was established in May 2014 as a voluntary 24th Territorial Defense Battalion "Aidar," under the command of the Ministry of Defense of Ukraine.
The battalion operated in the Luhansk region as part of the Anti-Terrorist Operation (ATO) forces, tasked with protecting Ukraine's territorial integrity. From 2014 to 2022, the battalion was under the command of the Operational Command "East," and since late 2022, it has been under the command of the Ground Forces Command.
In 2022-2023, the battalion actively participated in the battles for Bakhmut.
Illegal trials
It is important to note that this is not the first illegal trial of Ukrainian prisoners of war in Russia.
In June, there was a "court" hearing in Russia for 22 Ukrainian prisoners of war who defended Mariupol and were captured in May 2022. As reported by the Associated Press, eight of the detainees were women who worked as cooks in the "Azov" regiment.
Russia cynically accuses the Ukrainian prisoners of being "involved with a terrorist organization" and "participating in actions to overthrow the government in the DNR."