Today Russia attacks 21 times on Lyman-Kupyansk front: 150 eliminated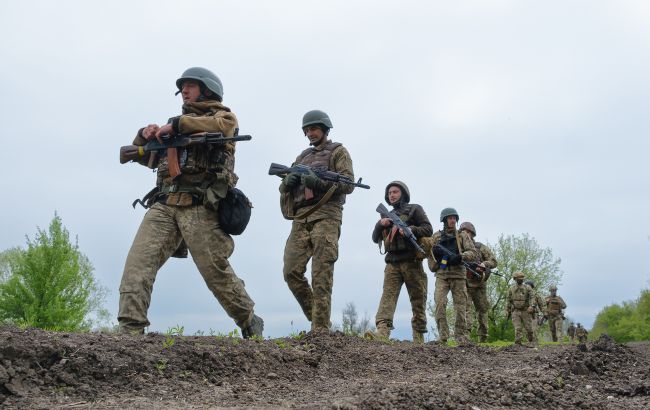 Russians have escalated military activities on the Lyman-Kupyansk front, suffering significant losses (RBC-Ukraine, Vitaliy Nosach)
Russian occupiers have escalated military activities on the Lyman-Kupyansk front, but Ukrainian military forces have inflicted significant losses to the enemy, both equipment and manpower, as Spokesperson of the Eastern Group of the Armed Forces of Ukraine Serhii Cherevatyi said to Ukrainian TV.
"The enemy has become active on the Lyman-Kupyansk front. Over one day, Russians attacked 21 times," he said.
Russia's tactics
According to Cherevatyi, the primary attacking force was the so-called "Storm Z" assault squads. The spokesperson added that Russia is repeating the tactics previously used on the Bakhmut front, leading to similar consequences.
Russian army faces losses
Over one day, 146 occupiers were eliminated and 190 were wounded.on this front. The following enemy equipment was destroyed:
one T-72 tank;
three BMP-2 infantry fighting vehicles;
one BMP-1 infantry fighting vehicle;
a self-propelled artillery unit;
an ammunition warehouse, and two vehicles used for transporting ammunition.
Escalation on the Lyman front
As Spokesman of the General Staff of the Armed Forces of Ukraine Andriy Kovalev said to Ukrainian TV, Ukraine's forces continue to withstand the Russian military advance on the Lyman, Bahmut, and Kupyansk fronts.
"Particularly heavy fighting is ongoing on the Lyman front, in the area of Yampolivka, Torske, west of Dibrova, Hryhorivka, Spirne in the Donetsk region," he said.
Kovalev added that Ukrainian soldiers are bravely holding their defense lines, causing significant losses in manpower and equipment to the enemy.
He also added that Ukrainian troops are advancing successfully on the Melitopol and Berdyansk fronts. The Armed Forces of Ukraine are currently consolidating their positions.