To unblock ports Ukraine needs to increase military power at sea - Expert reveals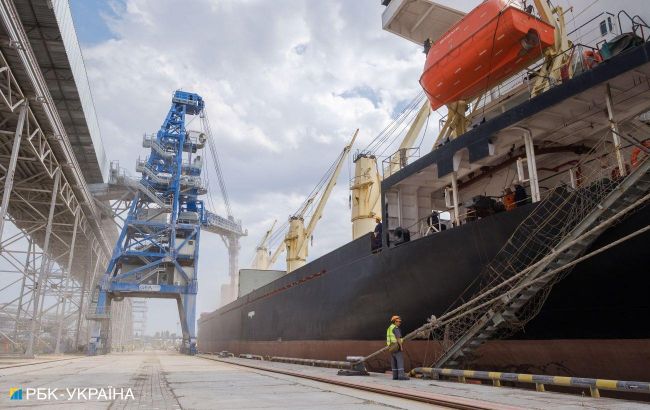 Ukraine needs to build up its military power at sea to unblock ports (Photo: Vitaliy Nosach, RBC-Ukraine)
To fully unblock ports and restore the free export of all groups of goods, Ukraine needs to enhance its military capabilities and provide state support to seafarers, according to Ruslan Bortnik, the director of the Ukrainian Institute of Policy.
"Russia exports more goods and services through the Black Sea than Ukraine, and this channel is more important to Russia. However, Russia currently maintains dominant capabilities in the Black Sea region and can seriously impede any Ukrainian exports through this region. While Ukraine also can hinder Russian exports, it is economically more favorable for Russia to have unhindered functioning in the Black Sea," explained Bortnik.
He emphasized that currently, Russia cannot block the operation of Ukrainian ports entirely, but it can disrupt infrastructure and create conditions where commercial viability for shipping is absent. Therefore, state support is necessary to restore shipping.
"Full-scale operation is only possible with state support – someone must finance it and assume all the risks. Shipowners need comprehensive insurance guarantees. We are talking about tens of billions of dollars, a significant sum. Ukraine cannot fully take on these risks, and our Western partners are not rushing to assist yet," said the expert.
At the same time, he highlighted that increasing military strength in the Black Sea region would help Ukraine negotiate with Russia, as it would level the playing field.
"Russia believes that Ukraine cannot create serious problems for Russian logistics routes. Therefore, in exchange for opening Ukrainian logistics routes, Russia demands the lifting of sanctions on "Rosselkhozbank," its fertilizer trade, and other things. However, suppose Ukraine can increase its military capabilities in the Black Sea and create a situation similar to Russian ports. In that case, Russian demands would be less stringent and more lenient," concluded Bortnik.
Previously, Ukrainian special forces recently regained control of the Petro Hodovanets and drilling platforms and the Tavryda and Syvash self-elevating drilling rigs. During the operation, special forces were able to seize a supply of helicopter ammunition and the "Neva" station, which can control ship movements in the Black Sea.
Experts have previously mentioned that successful attacks on the Russian fleet indicate the deployment of a Ukrainian "maritime front," which has already become a problem for the Russians as the insurance for their ships has significantly increased.