Dollar may rise significantly in 2024: what Ukrainians should expect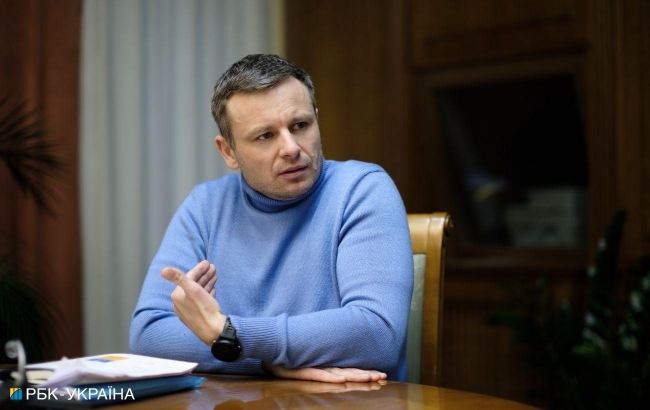 Ukraine's Finance Minister Serhii Marchenko (Vitalii Nosach, RBC-Ukraine)
Official forecast from the Ministry of Economy regarding the average annual exchange rate of the Ukrainian hryvnia to the U.S. dollar for the year 2024 is set at 41.4 UAH/USD, according to the Finance Minister of Ukraine Serhii Marchenko during a meeting with members of the European Business Association (EBA).
"We anticipate a rate of 41.4 UAH/USD for the next year," he said.
The official forecast for the hryvnia-to-dollar exchange rate is being prepared by the Ministry of Economy. This forecast is included in the government's economic macroforecast, which is approved at the end of August as part of the budget preparation for the coming year. The government's resolution on the macroforecast has not yet been published. This forecast does not in any way affect the official exchange rate set by the National Bank.
Typically, the Ministry of Economy's forecast does not align with the actual exchange rate. For instance, the state budget assumes an average rate of 42.2 hryvnias per dollar for the year. Additionally, it is projected that by the end of 2023, the rate will rise to 45.8 hryvnias. However, the National Bank maintains the official rate at 36.6.
In the cash market, the exchange rate fluctuates around 38 hryvnias, and it has fallen by 6% since the beginning of the year (it was above 40 hryvnias in December of the previous year).
Forecasts for 2024
Company leaders are budgeting for an average currency rate of 41 UAH/USD for 2024. This is an improvement compared to the previous year when businesses budgeted for 43 UAH/USD for 2023.
According to the National Bank of Ukraine, financial analysts in July 2023 predicted the hryvnia exchange rate over the next 12 months to be at 40.26 UAH/USD. In June, they expected a rate of 39.54 UAH/USD.
Citizens' exchange rate expectations have deteriorated for the second consecutive month. In July, the population expected a rate of 39.75 UAH/USD (in June, it was 39.66 UAH/USD).
Furthermore, bankers in July are forecasting the hryvnia exchange rate to be at 40.54 UAH/USD over the next 12 months.