Supporting Ukraine in interests of United States - Leader of Republicans in US Senate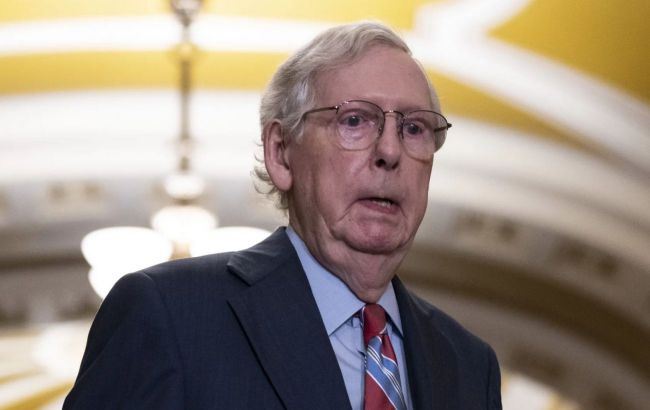 Leader of the Senate Republicans in the United States, Mitch McConnell (photo: Wikipedia)
Comprehensive assistance to Ukraine is in the interests of the United States because we are standing up to the Russian dictatorship, which also threatens other authoritarian regimes like China or North Korea, states Leader of the Senate Republicans in the United States, Mitch McConnell.
He noted that the United States stands against China, Russia, North Korea, and Iran, which already speaks to the correctness of supporting Ukraine, which is fighting one of these regimes. Additionally, McConnell pointed out that the share of GDP allocated to aid Ukraine is small for such efforts.
"If Putin wins, the next country will be a NATO country. And I think it's a lot smarter to stop this invasion, push him back, and the only ones ready to do that are the Ukrainians themselves," McConnell said.
Moreover, providing arms to Ukraine is beneficial for the development of the U.S. industrial base and creating jobs there.
"We should be rebuilding our industrial base whether there was a war in Ukraine or not because of competition from Russia and China," the senator noted.
Furthermore, Ukraine's resistance with the support of allies also contributes to peace in the Far East, according to McConnell.
"Some Americans who say this is a long way from the Far East, and that's where our real concerns are. But the Prime Minister of Japan said if you want to send a message to President Xi, go beat Putin in Ukraine. South Koreans are concerned, Filipinos are concerned, Australians are concerned. So, this really has a huge impact on Asia and the future of Taiwan," the senator concluded.
The attitude of Republicans toward assistance to Ukraine
In July, the U.S. House of Representatives voted on its National Defense Authorization Act for the fiscal year 2024, with a total budget of $886 billion.
At that time, Congresswoman Marjorie Taylor Greene attempted to introduce several amendments to block aid to Ukraine. One of these amendments was related to $300 million in aid. It's noted that these amendments were successfully rejected, and aid to Ukraine is set to continue.
She explained her actions by stating that McCarthy had offered her a position on the Conference Committee. However, Greene promised to continue opposing the expansion of aid to Ukraine.
Recently, CNN reported that Republican leaders in Congress are considering the possibility of reducing aid to Ukraine as a way to break the deadlock in the House of Representatives over the approval of the U.S. defense budget.