Summit in Saudi Arabia: some countries' stance on Ukraine has undergone major changes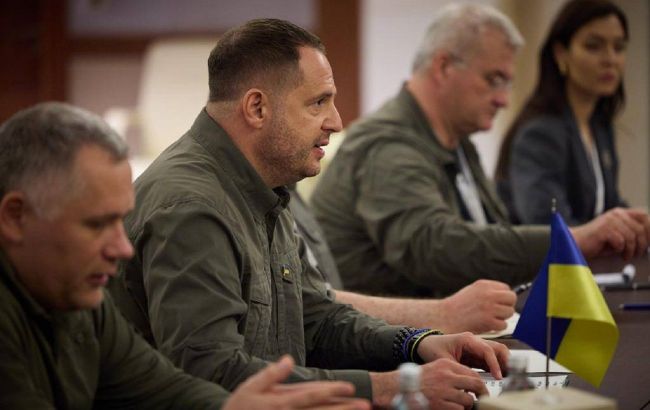 Head of the Office of the President of Ukraine Andrii Yermak at the summit in Saudi Arabia (t.me/ermaka2022)
At the summit in Jeddah, Saudi Arabia, representatives of the Ukrainian delegation engaged in discussions with negotiating participants about defense, security guarantees, investments, the importance of conducting a Global Peace Summit, as well as the "grain deal" and collaboration with delegates from over 30 nations, reported the head of the Office of the President of Ukraine, Andrii Yermak, on his Telegram channel.
During the summit in Saudi Arabia, numerous bilateral meetings were held regarding the implementation of the "peace formula" initiated by Ukrainian President Volodymyr Zelenskyy, at the level of national security and foreign policy advisers.
Yermak said following the summit's events that he "once again realized the significant diplomatic work that our entire team has accomplished."
According to the head of the Office of the President, certain parties have notably shifted their stance concerning events in Ukraine and the full-scale military aggression by Russia.
"Today, one of the partners told me, 'You can't even imagine the substantial work you are doing, as representatives of one country were discussing war with Russian narratives just two months ago. Now they are starting to understand the reality of the situation, and after the considerable amount of work you've done, their position has undergone significant changes,'" the publication stated.
Yermak also recounted the two-day summit's proceedings:
On August 5, bilateral meetings took place with the heads of delegations from the United States, Saudi Arabia, Finland, Japan, Qatar, France, Germany, Spain, Norway, Turkey, Poland, and Slovakia.
On August 6, negotiations were held with advisers on national security and foreign policy of the leaders of Sweden, South Africa, Bahrain, Canada, Italy, Denmark, the Republic of Korea, as well as with the head of the European Commission President's Cabinet.
Summit in Saudi Arabia on 5-6 August (photo: t.me/ermaka2022)

The Saudi Arabia summit
During the two-day meeting in Saudi Arabia, held on August 5-6, the focal point was the Ukrainian "peace formula." The first report on the meeting was published by The Wall Street Journal. Later, the information was confirmed by the Office of the President.
Representatives from over 40 countries were invited to the summit, including India, Brazil, Indonesia, Egypt, Mexico, and China.
Following the summit, Andrii Yermak, the head of the Office of the President, remarked that some representatives held differing viewpoints, but all countries demonstrated commitment to the principles of the UN Charter, international law, and respect for sovereignty and territorial integrity.
According to Der Spiegel, the peace summit on Ukraine in Saudi Arabia concluded without a final communiqué, yet there were "positive signals" from China.