Single сapsules and showers in compartments: New trains coming soon to Europe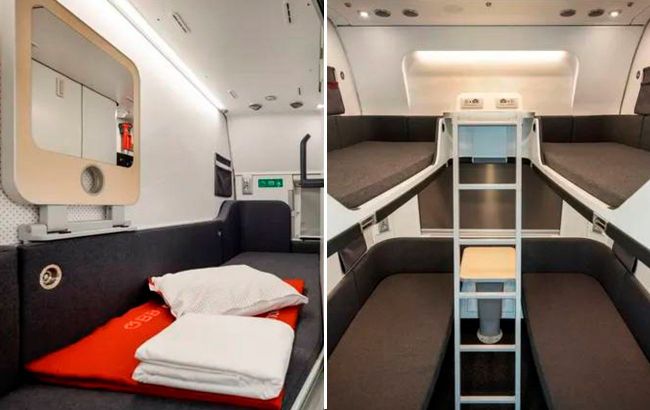 New comfortable trains will be launched in Europe (Collage RBC-Ukraine)
The Austrian state railway company ÖBB plans to launch 33 trains as part of the revival of night train services. The entire fleet of new trains with improved comfort is set to be launched in December 2023.
RBC-Ukraine reports on how these trains look and what conditions are provided for passengers, according to the Austrian Railways website.
The first night trains are scheduled to run on December 10, 2023, with routes from Vienna to Hamburg and Innsbruck to Hamburg.
Each train will consist of seven carriages:
Two seated carriages
Three compartment carriages
Three sleeper carriages
The train's capacity is 254 passengers. The sleeper carriages will feature upgraded comfort compartments with bunk beds in the Comfort and Comfort+ categories. Each category will have its own en-suite bathroom and shower and accommodations for two people.
These carriages will offer more space for bulky luggage, as well as room for sports equipment, strollers, and bicycle storage.
In regular compartment carriages, there will be four sleeping berths per compartment but without en-suite bathrooms.
Double and quadruple compartments (Photo ÖBB)
But the most significant innovation in this train is the individual mini-cabins in the form of capsules, arranged in two rows, where each passenger will have complete privacy and personal space.
The compartments are equipped with a convenient folding table with a mirror, a reading lamp, shoe and personal item storage, and luggage storage space.
Single compartments (Photo ÖBB)
Each train will also be equipped with compartments for people with disabilities. These compartments will accommodate two individuals with disabilities using wheelchairs and two accompanying individuals. Accessible restrooms will be available in these compartments.
Compartments for people with disabilities (Photo ÖBB)
In the seated carriage, there will be rows of double seats with foldable armrests and headrests. Each seat is equipped with a reading lamp and inductive charging, and there is storage space for personal items and luggage racks.
Seated carriages (Photo ÖBB)
The new trains have already been approved for use in Austria, Germany, Italy, Switzerland, and the Netherlands. Therefore, these trains will soon start operating between EU countries.
Tickets for the first routes from Vienna to Hamburg and from Innsbruck to Hamburg went on sale on October 11.