Shelling of police building in Kryvyi Rih on September 8 - One killed, many wounded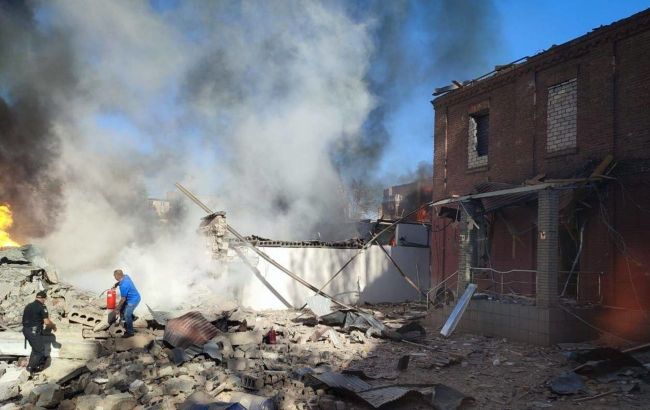 A police officer was killed and 25 people wounded due to the shelling of Kryvyi Rih on September 8 (Photo: imgoline.com)
Russian occupiers shelled a police building in Kryvyi Rih, Dnipropetrovsk region, on September 8. One police officer was killed, and many others were wounded, with three rescued from the rubble, according to the Minister of Internal Affairs, Ihor Klymenko.
"Kryvyi Rih. A hit in the city center. One of the police administrative buildings is destroyed. A police officer was killed as a result of the Russian strike. Three more State Emergency Service (SES) rescuers were pulled from under the rubble. They are in critical condition," he said.
According to Klymenko, 25 people suffered injuries of varying degrees of severity as of 10 AM.
"Emergency workers at the scene are extinguishing a fire covering an area of 200 square meters. In addition, nearby residential buildings were also affected. Rescue operations are ongoing," he added.
Photos from the scene of the shelling of the police building in Kryvyi Rih on September 8 (t.me/Klymenko_MVS, t.me/dnipropetrovskaODA)
Updated. According to the head of the military administration of Kryvyi Rih, Oleksandr Vilkul, an enemy missile hit an administrative building that housed several offices, including the office of the Oleksandr Vilkul Foundation "Ukrainian Perspective."
A help center for people is being set up in the School of Arts (formerly the Central City District Committee), near the monument to Saint Nicholas.
Kryvyi Rih shelling
On the morning of September 8, Ukraine declared an air alarm, particularly in the Dnipropetrovsk region, due to the threat of missile shelling. During the air raid siren in Kryvyi Rih, the Dnipropetrovsk region, an explosion occurred. The citizens were advised not to approach the "impact site."