Severe weather in Ukraine: blackouts, damaged houses and cars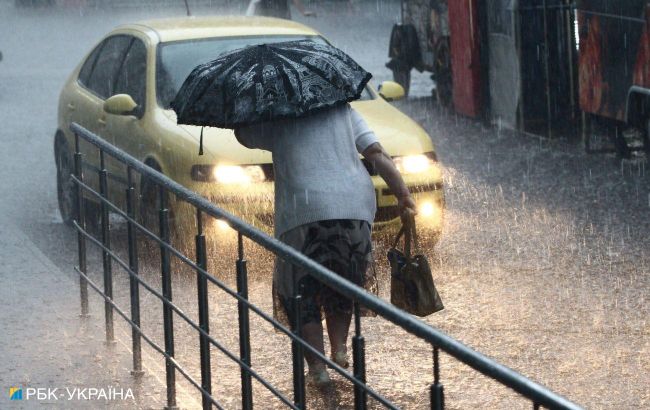 Bad weather in Ukraine on July 27 (Vitalii Nosach, RBC-Ukraine)
On the evening of July 27 and through the night of July 28, Ukraine was hit by a powerful storm. The gale-force winds led to trees falling on power lines, leaving hundreds of towns without electricity.
Heavy rain and winds struck the eastern, southern, and parts of the northern and central regions of Ukraine yesterday and overnight.
As of 07:00, the storm caused power outages in 420 towns across 10 regions. 165 towns in the Dnipropetrovsk region are left without electricity, followed by Kyiv region with 119, Sumy - 42, Chernihiv - 30, Vinnytsia - 15, Zaporizhia - 12, Poltava - 12, Odesa - 11, Kharkiv - 9, and Kirovohrad region with 5 towns experiencing power outage.
Dnipropetrovsk region
Torrential rains and gale-force winds raged in the region since the evening of July 27. Some towns experienced hail the size of matchboxes.
The State Emergency Service reported that rescuers made 65 trips to clear roads and vehicles of fallen trees and branches. Houses and power lines were damaged.
There were also reports on social media that lightning struck a house in the Dnipropetrovsk region. However, the authorities have yet to confirm this information.

Photo: Dnipro hit by bad weather (dp.dsns.gov.ua)
Zaporizhzhia and Kharkiv regions
The city authorities of Zaporizhzhia reported significant damage caused by heavy rains and winds. Some streets witnessed fallen power lines and trees. Public transportation services, such as trams and trolleys, experienced delays due to the storm.

Photo: Bad weather in Zaporizhzhia (t.me/kurtievofficial)
The Kharkiv region was also hit by the storm, with reports of trees falling in both the city of Kharkiv and the surrounding areas.
Southern regions
In the Odesa region, the storm left 11 towns without electricity. Yesterday, on July 27, public transport in Odesa did not operate according to schedule due to the heavy rainfall.
The powerful downpour also affected temporarily occupied Crimea. The rain, accompanied by thunderstorms and strong gusts of wind, was so intense that it caused gates of private houses to collapse.
Today's weather in Ukraine
Today, another part of Ukraine is expected to face heavy rain. According to meteorologists, rain and thunderstorms are anticipated in the central, eastern, and southern regions, with winds reaching 15-20 m/s.
Daytime temperatures will range from +20 to +25 degrees Celsius, while the Odesa region might experience temperatures up to +28 degrees Celsius.