Second commander of Russian 247th Air Assault Regiment dies in Ukraine war, reports say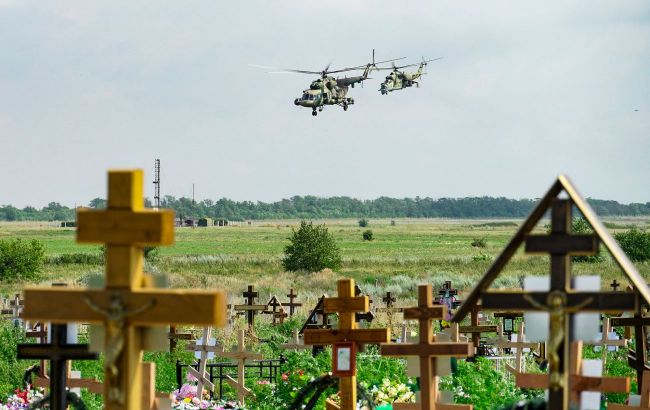 Second commander of Russian 247th Air Assault Regiment dies in Ukraine war (Getty Images)
Vasiliy Popov, Commander of the 247th Air Assault Regiment of the Russian Federation, died in the war against Ukraine. He is the second commander to be killed during the invasion, according to the Russian Mediazona.
The first commander, Guard Colonel Konstantin Zizevsky, died in the early days of the war on February 26, 2022.
Who is the first to report Popov's death
The media notes that the first report of his death was made by pro-Kremlin blogger Yegor Guzenko, who is the author of the propaganda Telegram channel.
"The voice message, in which the last name of the deceased military officer was not mentioned, appeared on September 10," the media states.
Later, poems dedicated to the memory of Popov appeared in a social media VKontakte.
What is known about Popov
Thanks to leaks from Russian databases, Mediazona was able to determine that Vasiliy Viktorovich Popov was 38 years old at the time of his death.
In phone handbooks, he was listed as a "captain" and "major," but in 2021, he studied at the General Staff Academy of the Armed Forces, and presumably, he received a higher rank before being appointed as the regiment's commander.
According to the pro-Kremlin blogger Guzenko, Popov was appointed as the commander of the 247th Regiment quite recently. In August, another officer, Petr Petrovich Popov, was in charge of the unit.
247th Guards Air Assault Regiment
The regiment is part of the 7th Guards Airborne Assault Division and is stationed in Stavropol.
The unit suffered heavy losses at the beginning of the full-scale Russian invasion. The media notes that in the first week of the war, the regiment lost at least 60 people during an attempt to storm Mykolaiv.
"Among them was the regiment's commander, Konstantin Zizevsky. In addition, there is information about the death of the commander of the 2nd battalion of this regiment, Dmitry Lisitsky; he died at the end of March 2023," Mediazona writes.
Elimination of Russian generals in the war against Ukraine
In June, it was reported that Russian Major General Sergey Goryachev almost certainly died as a result of a strike on a command post on June 12, 2023, or thereabouts, in southern Ukraine.
In July, Russian General Oleg Tsokov was eliminated in the temporarily occupied Berdiansk. Such events on the battlefield have a strategically destabilizing nature.