Ryanair leadership arrives in Ukraine for talks on flights resumption at "Boryspil"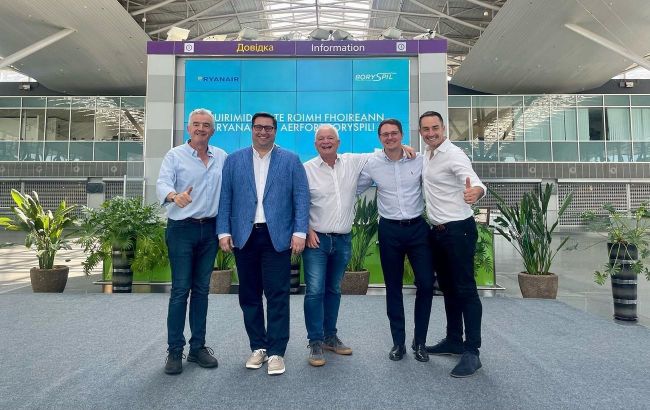 Ryanair leadership in Ukraine (facebook.com/airportboryspil)
According to the press service of Boryspil airport, top officials from Europe's largest airline, Ryanair, have arrived in Ukraine for discussions with the management of the international airport "Boryspil" regarding the resumption of flights after the end of the conflict.
The delegation includes Michael O'Leary, Chief Executive of Ryanair Group; Eddie Wilson, CEO of Ryanair DAC; and Jason McGuinness, Commercial Director of Ryanair DAC.
Due to the current restrictions on passenger flights in Ukraine, Ryanair's leadership was transported to Boryspil by "Ukrzaliznytsia," the Ukrainian Railways.
"Busy work has begun: we are discussing in detail the partnership between the Ryanair and Boryspil airport regarding the airline's declared strategic plan for the rapid recovery of air transport, immediately after Ukraine's victory and EASA's confirmation of the safety of flights in Ukrainian skies," stated the airport's press service.
Flight resumption in Ukraine
It's important to note that Ukraine completely closed its airspace for civilian aircraft following the onset of the full-scale invasion by Russia on February 24.
According to the European Organization for the Safety of Air Navigation (Eurocontrol), the restrictions on civil aviation flights in Ukrainian airspace will remain in effect until 2029. Eurocontrol does not generate or use military forecasts, analytics, or assumptions to make its predictions. After the war's conclusion and route network reformatting, Eurocontrol's forecast will be updated with new data.
It should also be mentioned that discussions have begun in Ukraine about reopening the "Lviv" airport as an example of a grain corridor.
Furthermore, Ryanair has expressed its readiness to resume operations in Ukraine once hostilities cease and the airspace is reopened. Michael O'Leary, CEO of Ryanair Holdings Plc, stated that the company "should be able to fly there in about two weeks."
In preparation for the resumption of operations, Ryanair is also hiring a significant number of Ukrainian pilots and flight attendants to ensure readiness for their return to the country after the conflict with Russia comes to an end.