Russians shell Kryvyi Rih: one killed, 10 wounded, people under debris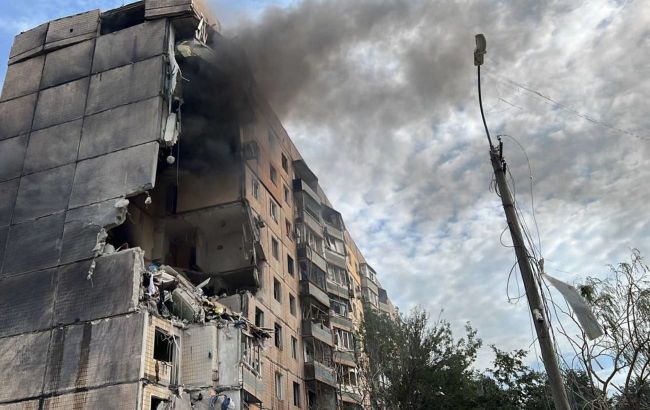 The details of the shelling of Kryvyi Rih on July 31 (Photo: t.me/dmytro_lubinetzs)
Russian occupiers shelled Kryvyi Rih on Monday, July 31. The enemy targeted the city with two missiles, resulting in casualties and injuries, according to the Minister of Internal Affairs of Ukraine, Ihor Klymenko.
Strike on an educational institution
One missile hit a four-story building of an educational institution. There are likely people trapped under the debris. Rescue workers and police are on site.
Destruction of a residential building
As Klymenko stated, the second missile destroyed floors 4 to 9 of a residential building, causing a fire.
"As of 10:15, one person has been killed, and ten residents have sought medical assistance. Emergency services are extinguishing the fire and searching through the rubble. There might still be people trapped there," he said.
Consequences of the shelling of a residential building in Kryvyi Rih (t.me/dmytro_lubinetzs)
According to the head of the Dnipropetrovsk Regional State Administration, Serhii Lysak, the Russian forces targeted a residential building in Kryvyi Rih and a building of one of the universities.
"Whom did they want to demilitarize there? There are casualties. Parts of the high-rise are simply gone! The educational institution is in ruins. People might be under the debris. Everyone is on-site. The search and rescue operation is ongoing," Lysak reported.
Shelling of Kryvyi Rih
In the morning of Monday, July 31, explosions were heard in the city of Kryvyi Rih, the Dnipropetrovsk region, during an air raid warning. Later, photos of the missiles hitting a residential building were shared on social media. Ukraine's Ministry of Internal Affairs also reported a missile strike on the city.