Russians owning property in Finland seek alternative routes amidst sanctions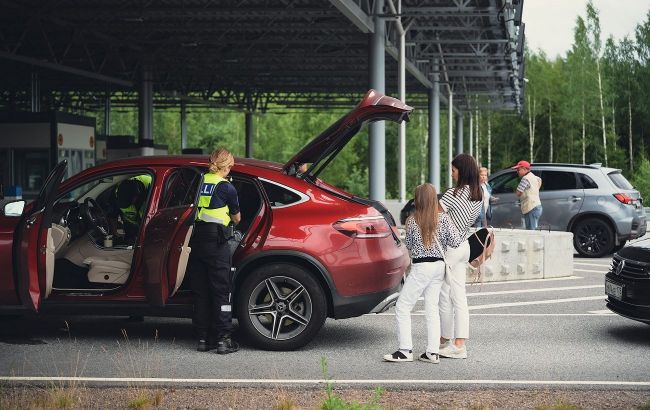 Customs officers check Russian cars at the Nuijamaa border crossing in Finland (Getty Images)
The border restrictions imposed by the Finnish authorities have compelled a significant number of Russian holiday home owners to explore alternative ways to reach Finland, as reported by SchengenVisaInfo.com.
Local media reports indicate that Russians with land plots and properties in southern Finland are facing over 3,500 kilometers of detours due to the border restrictions. This situation is exacerbated by the absence of air travel connections between Finland and Russia, resulting from the imposition of sanctions.
In an effort to simplify travel processes, Russian citizens have petitioned the Finnish President to ease the border restrictions, particularly for those who have owned holiday homes in Finland for many years. The petition has garnered signatures from a significant number of Russian citizens.
What restrictions did Finland impose on Russian citizens?
The introduction of sanctions by the European Union in response to Russia's invasion of Ukraine led Finland to extend travel restrictions for Russians last month. The restrictions apply to business travelers, property owners, and students.
"The non-essential travel of Russian citizens to Finland and through Finland to the rest of the Schengen area will continue to be restricted for the time being. At the same time, restrictions are tightened for business travellers, property owners, and students," the statement read.

Photo: Russians try to get to their property they own in Finland (unsplash.com)
The decision means that business travellers will be banned from using Finland as a transit country, meaning that their travel would be limited to Finland. Besides, authorities also noted that stricter rules would also be applied to Russian citizens planning to apply for a visa.
In June this year, the Finnish government announced that it would further tighten entry restrictions on Russian travellers to make it impossible for passengers to use loopholes in the current restrictions.
"The President and the Ministerial Committee noted that Russian citizens' travel may still harm Finland's international relations. The restrictions on non-essential travel should therefore be kept in place and tightened to prevent breaches," the Prime Minister's office stated.
The office further emphasized that restrictions introduced on September 29, 2022, for Russian travelers will soon be reinstated.