Russians move equipment with new markings to Mariupol sector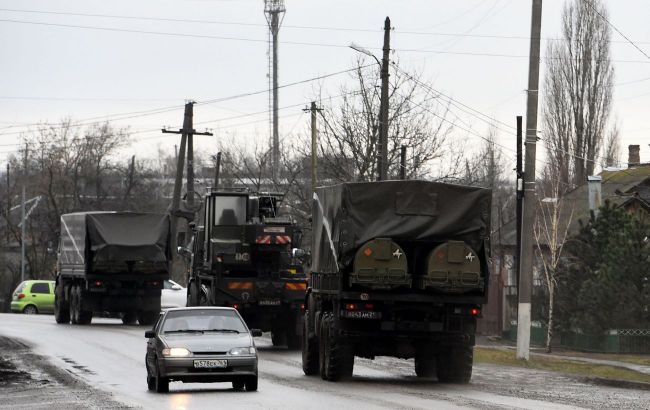 Occupiers continue to move equipment to the Mariupol sector (GettyImages)
Russian occupiers continue transporting their reserves to the front. In particular, Russian equipment with new symbols and markings were noticed on the Mariupol direction, according to the advisor to the mayor of Mariupol, Petro Andriushchenko.
"During the weekend, the priority remained on the Zaporizhzhia direction with the dominance of Berdiansk. Mostly trucks with ammunition and personnel," summarized Andriushchenko.
He said that the occupiers have placed new markings on their equipment.
"On Sunday, while moving from the Neva side towards the Center, a column of 15 vehicles was observed: covered Urals and KamAZ trucks, armored body based on Ural, ZU-23 and fuel trucks with markings. Ownership is being established," reports the advisor to the mayor of Mariupol.
The occupiers have also started using chevrons depicting sharks in newly formed assault units undergoing training on the coast.
"In general, overlaying the map of movements on the map of combat operations makes it clear that the recent transfers corresponded to operational-tactical tasks, especially in the area of ​​Verbove along the Berdiansk direction and Tokmak," Andriushchenko added.
Situation in the Mariupol region
Recently, the Russian army has become more active in transferring reserves through the temporarily occupied Mariupol, captured in February 2022. Only on the night of November 18, the enemy moved more than 20 trucks with tanks and other tracked heavy equipment through Mariupol towards Berdiansk.
In addition, Russia is moving fuel tankers closer to the front, intensively preparing assault forces, with aviation actively flying over the port of Mariupol.