Russians attack Pokrovsk: Buildings destroyed, one killed, many wounded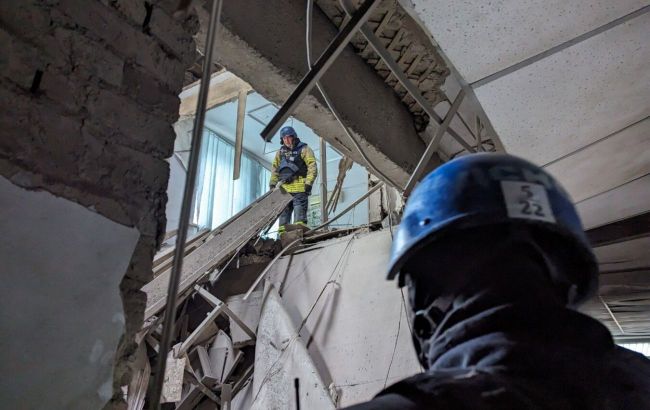 Russians attacked Pokrovsk, Donetsk region, on October 13 (t.me/dsns_telegram)
Russian troops shelled Pokrovsk, Donetsk region, on the morning of Friday, October 13. The shelling destroyed two buildings, killed one person and wounded 12 others, according to the State Emergency Service of Ukraine.
"This morning, Russians struck the city of Pokrovsk in the Donetsk region," the statement reads.
According to preliminary information from rescuers, as of 10:00 AM, one person has been killed, and 12 others have been injured. Two administrative buildings have been partially destroyed.
"Search and rescue units from the State Emergency Service have rescued three individuals from under the rubble," added the State Emergency Service.
Consequences of the shelling of Pokrovsk, Donetsk region, on October 13 (t.me/dsns_telegram)
Pokrovsk shelling
Pokrovsk, located in the Donetsk region, is a city situated in what is commonly referred to as the "rear area." However, the occupiers continue to launch attacks even in this relatively safer region.
For example, Russian forces launched a missile strike on Pokrovsk in the Donetsk region on June 21. As a result of the shelling, four people sustained injuries. On August 7, the occupiers targeted a residential building in Pokrovsk, with casualties reported as a result of the enemy's attack.