Russian missile attack on Ukraine: casualties reported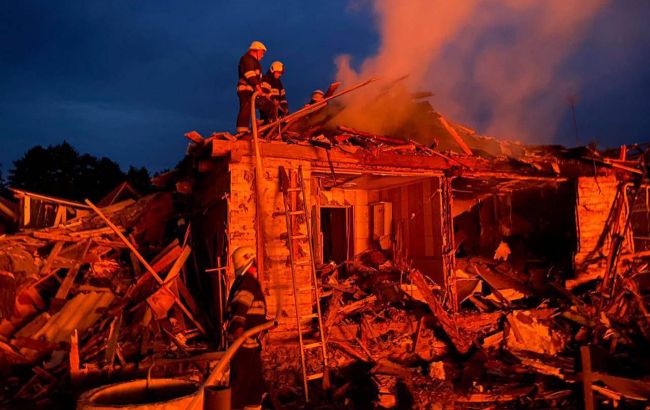 Russia fired 16 drones and six missiles at Ukraine overnight (t.me/mvs_ukraine)
In the early hours of June 9th, Russian military forces launched an attack on Ukraine using cruise missiles and Shahed drones. While most of the enemy targets were successfully intercepted, there were casualties and injuries in the Zhytomyr region due to falling debris.
RBC-Ukraine has compiled all the information about the nighttime attack below.
Air defense destroys 4 missiles and 10 Shahed drones
During this night, Russian occupiers launched 16 combat drones and 6 cruise missiles (X-101/X-55) at military targets and critical infrastructure in Ukraine. According to the Ukrainian Air Force, the Iranian kamikaze drones were launched from the southern direction, while the cruise missiles were fired from the Caspian Sea region, originating from four Tu-95MS strategic bombers.
Thanks to our air defense systems in the areas of responsibility of the Eastern, Western, and Southern Air Commands, in coordination with other components of the Ukrainian Armed Forces' air defense, the following were destroyed:
4 cruise missiles (X-101/X-55)
10 Shahed-136/131 combat drones, the "Lancet" unmanned aerial vehicle (UAV), and four operational-tactical level UAVs "Orlan-10" and "Supercam."
The aftermath
The enemy attack lasted for 6 hours. Despite successfully intercepting most of the targets, there have been casualties and injuries due to falling debris.
Zhytomyr region
In the town of Zvyahel in the Zhytomyr region, one residential building was destroyed, and another 12 sustained damage from the debris of a downed missile, according to the head of the regional administration, Vitaliy Bunechko. He reported one dead and three injured individuals. A fire covering an area of approximately 300 square meters has been extinguished.
Dnipropetrovsk region
As reported by the head of the Dnipropetrovsk regional administration, Serhiy Lysak, during the night, "defenders from the Eastern Front successfully nullified enemy threat heading towards the region." Preliminary reports indicate that Ukrainian defenders shot down a UAV and two cruise missiles over the region. However, debris fell in the Novomoskovsky district, damaging two private houses, a car, and a gas pipeline. No injuries reported.
Later clarification from the Eastern Air Command revealed that five enemy UAVs and two cruise missiles were destroyed in the region.
Mykolaiv region
The Southern Operational Command reported that a cruise missile was destroyed over the Mykolaiv region at approximately 4:00 a.m.
Russian missiles launched at Ukraine on the evening of June 8th
Prior to the nighttime attack, the Uman district (Cherkasy region) was targeted by Russian terrorists. Two missile incidents were recorded, one at an industrial facility and another at a car wash. In the latter case, a fire broke out due to the impact.
According to the Ukrainian Air Force, around 8:00 p.m. on June 8th, the enemy launched two "Kalibr" missiles from the Black Sea. Preliminary reports indicate that eight people were injured in the attack, two of them in critical condition.