Russian Il-22M aircraft downed by Wagner Group, UK intelligence comments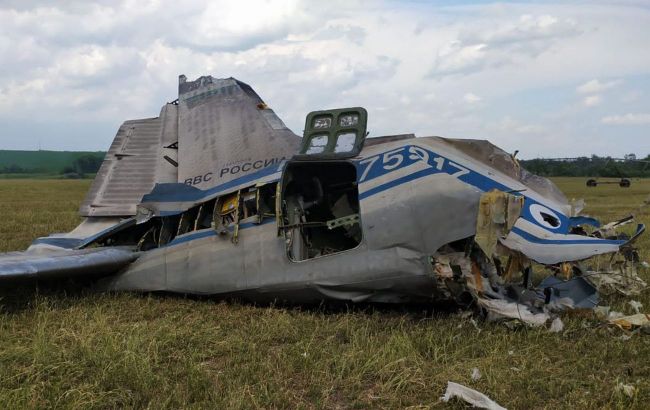 Wagner militants destroy a rare IL-22M aircraft (t-me-yigal)
It has been reported that Russia has been utilizing Il-22M aircraft to control the invading forces in Ukraine. According to the Ministry of Defense of the United Kingdom on Twitter, loss of one such aircraft will impact Russian air and ground operations.
On 24 June, air defence forces of the Wagner private military company reportedly shot down Russian military helicopters and an Ilyushin Il-22M airborne command post aircraft. The Il-22M is part of a relatively small fleet of up to 12 aircraft, heavily utilised for both airborne command and control, and radio relay tasks.
According to British intelligence, еhese special mission aircraft have played a key role in orchestrating Russian forces in their war against Ukraine. As high value assets they have operated within the safety of Russian airspace, far beyond the range of Ukrainian air defence systems.
The loss of this aircraft is likely to have a negative impact on Russian air and land operations.
"In the short term the psychological shock of losing a large number of aircrew in this manner will almost certainly damage morale within the Russian Aerospace Force. In the longer term, there is a possibility that current tasking levels may have to be reduced to safely manage the remaining fleet. This will likely undermine Russia's ability to command and coordinate its forces, particularly during periods of high tempo operations," said the Ministry of Defence of the United Kingdom.
Prygozhin's mutiny

During the mutiny on June 24, "Wagner" group, led by Yevgeny Prygoshin, shot down several Russian military helicopters and planes. According to Russian media reports, over 20 pilots on board the downed aircraft and helicopters were killed.
Yuriy Ihnat, the spokesperson for the Ukrainian Air Force, said that Il-22 had already been targeted by our Ukrainian anti-aircraft missiles, but we only "damaged" it. Thus, this was the first instance of eliminating such aviation. Ihnat referred to the destruction of the Il-22 as "good news" for Ukraine.