Russia to build nuclear power plant Paks-2 in Hungary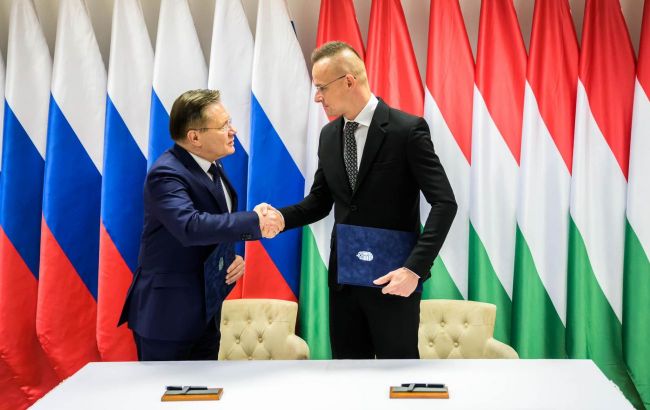 Photo: Russia and Hungary have reached agreement (facebook.com/szijjarto.peter.official)
Hungary and Russia have signed an agreement for the construction of the Paks-2 nuclear power plant, according to the Hungarian Minister of Foreign Affairs, Peter Szijjarto.
"We have signed the construction schedule for Paks-2, based on which we will connect the new nuclear power plant to the grid at the beginning of the next decade. It has been a long journey, but it is finally about construction, not just documents," Szijjarto announced.
The document from the Russian side was signed by the head of the Rosatom corporation, Alexey Likhachev. According to him, Rosatom will pay "special attention" to this project and plans to allocate its "best resources" to it.
"The attention to this project will be increased," Likhachev said.
Background
The Paks Nuclear Power Plant was built in the last century under a Soviet project and has four VVER-440 reactors with a total capacity of 2000 MW. The operational period of the reactors is expected to end between 2032 and 2037.
According to the documents, two new reactors with VVER-1200 generation 3+ reactors will be built. However, their construction is expected to be delayed due to the lengthy process of obtaining approval from the European Commission.
In 2022, Hungary issued a license to Rosatom for the construction of the Paks-2 nuclear power plant, despite the company's involvement in the seizure of the Zaporizhzhia Nuclear Power Plant in Enerhodar.
Sanctions against Rosatom
It is worth noting that Ukraine insists on imposing sanctions on Rosatom, whose employees are involved in the management of the seized Zaporizhzhia Nuclear Power Plant. Ukrainian President Volodymyr Zelenskyy called on the European Union to impose sanctions on the Russian nuclear industry in early 2023.
In early November, Ukrainian Foreign Minister Dmytro Kuleba announced that Ukraine had proposed a solution to the EU on how to stop dependence on Russian nuclear fuel and impose sanctions, but there has been no result so far.
Hungary's position on the war in Ukraine
It is worth mentioning that Hungarian Prime Minister Viktor Orban openly takes a pro-Russian position. He often makes statements to discredit Ukraine.
Hungary has not provided military aid to Ukraine since the start of the full-scale war and continues to block European Union sanctions against Russia.