Russia's losses in Ukraine as of November 2: 930 troops and 1 aircraft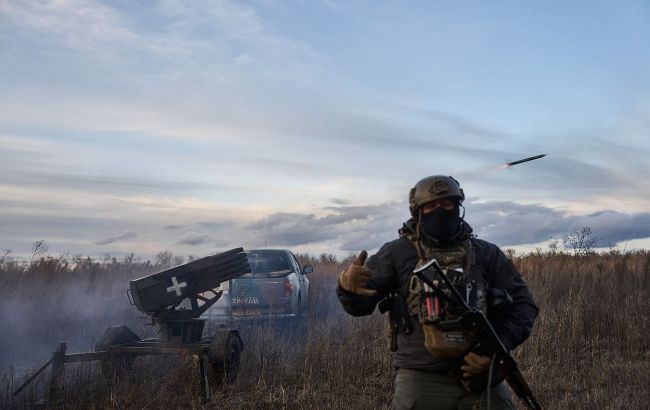 General Staff updates data on Russian losses in Ukraine (Getty Images)
Russia's losses in the war in Ukraine on Thursday, November 2, amounted to another 930 occupiers, bringing the total losses of the Russian army since the beginning of the invasion to 302,420 military personnel. In addition, the Ukrainian Armed Forces downed an enemy aircraft, according to the General Staff of the Ukrainian Armed Forces.
The overall Russian combat losses from February 24, 2022 to November 2, 2023 are estimated as follows:
Personnel: About 302,420 (+930) individuals eliminated
Tanks: 5,241 (+18) units
Combat armored vehicles: 9,877 (+43) units
Artillery systems: 7,292 (+42) units
MLRS (Rocket Artillery): 850 (+4) units
Anti-aircraft systems: 566 (+3) units
Aircraft: 322 (+1) units
Helicopters: 324 units
UAV operational-tactical level: 5,488 (+20) units
Cruise missiles: 1,549 (+2) units
Warships/boats: 20 units
Submarines: 1 unit
Vehicles and tankers: 9,658 (+34) units
Special equipment: 1,032 (+13) units.
Frontline situation
According to the General Staff, the Ukrainian Armed Forces repelled over 15 enemy attacks on the Bakhmut direction, continue offensive operations on the Melitopol direction, and conducted 9 strikes in areas where enemy personnel were concentrated.
Specifically, as clarified by the Institute for the Study of War, Ukrainian Armed Forces advanced to the south of Novomykhailivka, continued offensive operations in the western part of the Zaporizhzhia region, and made progress. According to preliminary information, Ukrainian military forces maintain positions and launch attacks on the eastern bank of the Kherson region. They launched an attack near Poyma and Pyschanivka, as well as engaged in combat actions near the village of Krynky.