Occupants lost over 60 tanks and armored personnel carriers trying to capture Avdiivka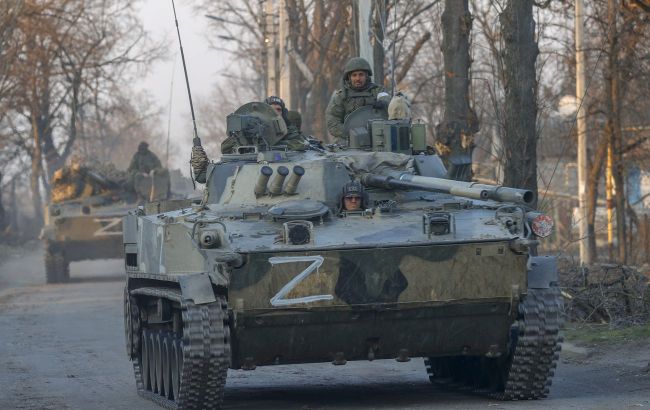 Russia lost over 60 tanks and armored personnel carriers in attempt to capture Avdiivka (Photo: Getty Images)
The Russian army has lost over 200 soldiers, along with more than 60 tanks and armored personnel carriers (APCs), during its advance on Avdiivka in the Donetsk region, according to Bild.
Military analyst Julian Röpke stated that Russian forces attempting to surround Avdiivka advanced in columns with over 100 units of equipment, including tanks, APCs, BMPs, and trucks. However, they came under artillery and anti-tank-guided missile fire and were repelled.
According to Röpke's assessment, Ukrainian forces killed over 200 Russian occupiers and destroyed over 60 tanks and APCs.
Röpke noted that the Russian plan was to create a large cauldron by bypassing Avdiivka from the west. To achieve this, they wanted to capture the villages of Pivnichne, Stepove, and Berdychi.
However, the Ukrainian Armed Forces managed to halt the advance of the occupiers near Pivnichne and on the railway line in Stepove. Despite the losses, Russian forces reportedly have no intention of abandoning the advance on Avdiivka.
Russian advance on Avdiivka
Last week, Russian occupiers intensified their offensive on Avdiivka in the Donetsk region. The enemy significantly shelled the city and neighboring settlements. The situation in the city remains tense.
According to the General Staff, in the Avdiivka area last week, Russian forces made over 100 unsuccessful attempts to displace Ukrainian units from their positions in areas east of Stepove, Lastochkine, Tonenke, Keramika, Severne, Nevelske, Netailove, and Pervomaiske in the Donetsk region.
Meanwhile, according to analysts at the Institute for the Study of War (ISW), the Russian attempts to advance on the city could turn into a "battering against a concrete wall."