Russia launches daytime missile attack on Kyiv, 16th assault this month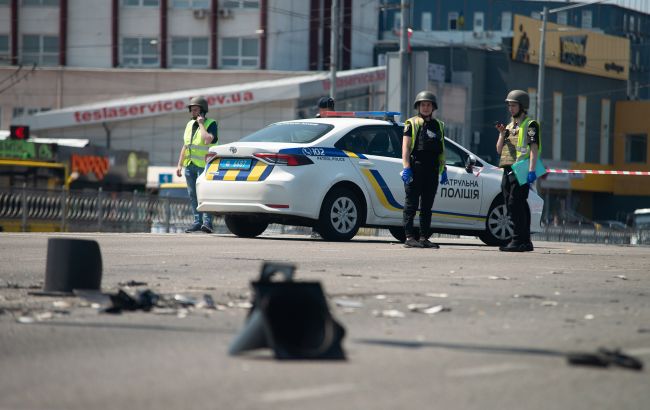 Missile attack on Kyiv (GettyImages)
On May 29th, the Russian forces resorted to an atypical daylight missile attack on Kyiv, following a series of night attacks. The enemy used ground-based ballistic and cruise missiles from the Iskander tactical missile system, as RBC-Ukraine explains.
According to the Kyiv City Administration, this was already the 16th attack on the capital of Ukraine since the beginning of the month.
"Initially, all aerial targets were successfully destroyed by our air defense forces and resources. According to available information, there were no hits on Kyiv's infrastructure," the city administration informed.
Remains of missiles fell in different districts of Kyiv. In total, six pieces of missile debris were discovered near a gas station; on the roads; on the green area. No critical damage was recorded. However, a fire was reported in a two-story building. Later, the city council reported one casualty, who was hospitalized.
In one of the districts of the Kyiv region, an outbuilding was damaged. A fire broke out, but there were no casualties.
According to the head of the National Police in the Kyiv region, Andriy Nebytov, there are currently no fatalities or serious damage in the region. However, local residents are reporting the discovery of missile debris on private estates and public spaces.
The spokesman of the Air Force Command of the Armed Forces of Ukraine, Yuriy Ignat, preliminarily reported that during the attack on Kyiv during the day, the Russians used missiles that flew along a ballistic trajectory. This was later confirmed by the Commander-in-Chief of the Armed Forces of Ukraine, Valeriy Zaluzhnyi. He reported that around 11:30, the occupants attacked the Kyiv region with ground-based ballistic and cruise missiles from the Iskander tactical missile system.
"Altogether, 11 missiles were launched: "Iskander-M" and "Iskander-K" from the northern direction," Zaluzhnyi wrote.
The Kyiv City State Administration has noted that Russian forces launched an attack on a city during the day when the majority of residents were at work and on the streets. "Thus, the attackers are clearly demonstrating their intent to target the civilian population," the administration wrote.
The previous night, Russian forces also carried out a mass shelling of Ukraine, and Kyiv was also under attack. The enemy deployed "Shahed" drones and cruise missiles. According to the city administration, a total of over 40 aerial targets were detected and destroyed.