Rocket attack on Chernihiv, August 19 - Casualties risen to 156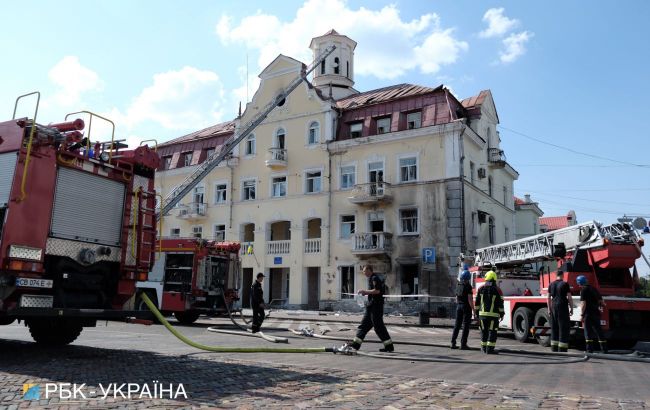 The number of casualties from the rocket strike on Chernihiv has increased (photo: Vitalii Nosach, RBC-Ukraine)
The number of casualties from the Russian rocket strike on the center of Chernihiv has increased to 156 people, announces Deputy Head of the Office of the President, Oleksiy Kuleba, in his Telegram post.
"Chernihiv. Cynical shelling of the city center. The rescue operation is complete. 156 people have been injured, with 41 individuals hospitalized. Necessary assistance is being provided to all. Unfortunately, seven people have lost their lives," he stated.
Kuleba added that the explosion damaged 66 residential buildings, 10 administrative structures, and 67 vehicles.
"Commissions are working, and compensations will be provided as soon as possible," he declared.
Rocket strike on Chernihiv city center
On August 19, during an air raid alert in Chernihiv, powerful explosions rang out. Local authorities confirmed that occupiers had struck the city center with an Iskander missile. Many people were in the area at the time of the attack.
The attack caused damage to the drama theater, the square, the courthouse, the Chernihiv Regional State Administration building, stores, and other public institutions. 148 people were injured, including seven fatalities.
At the moment of the strike, a drone exhibition was taking place in the drama theater, which had been announced in advance. Organizers claim they had received approval from the authorities.
For all the details on this cynical attack by the Russians, read the article by RBC-Ukraine.