Return of four children to Ukraine: Details emerge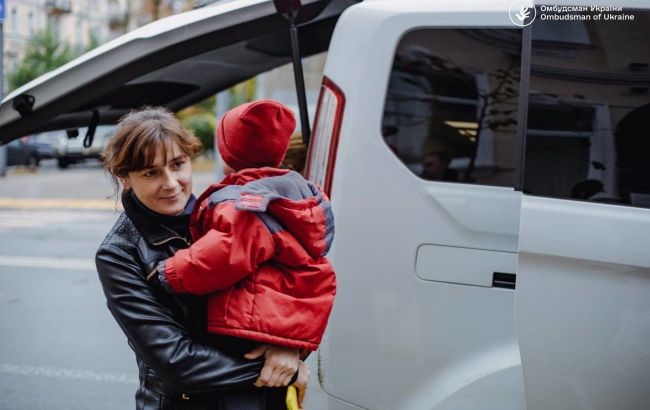 Details emerge about the return of four children to Ukraine (Photo: t.me/dmytro_lubinetzs)
Details have emerged about the return of four children kidnapped by occupiers from Russia to Ukraine. They have already reunited with their families.
Sources used during the material preparation: Telegram channel of the Head of the Presidential Office Andriy Yermak, Telegram channel of the ombudsman Dmytro Lubinets.
"Our children are coming home to their families. These include a 17-year-old girl and three boys aged six, three, and nine," said Andriy Yermak, the Head of the Office of the President (OP).
As he mentioned, the children were already at home with their loved ones.
"Each of them has their own story. They need to be heard in different countries around the world to gain a true understanding of Russia's crimes," added the Head of the OP.
Story one
A mother and son hadn't seen each other since the beginning of the full-scale Russian invasion of Ukraine. The family lived in the territory of the Kherson region, and when the war began, the woman, who was a servicewoman, came under the command of a military unit and went to defend Ukraine. Her underage son stayed at home with his grandparents.
When Russia occupied parts of the Kherson region, the mother couldn't evacuate her son and ended up in captivity. Later, the woman was able to secure her release and began searching for her son. She successfully found him and reunited him with his relatives.
Story two
Before the war, a boy with congenital health problems was in an institution in the Kherson region, where he was being prepared for surgery at Okhmatdyt.
Due to the Russian invasion, the child's parents had to evacuate, and the boy ended up in occupied territory. Along with other children, he was forcibly taken to Crimea.
Story three
Another boy found himself in the Bryansk region in a children's home. His grandmother didn't give up and, along with officials, searched for the child. The family managed to reunite.
Deportation of Ukrainian children to Russia
Since the beginning of the Russian invasion of Ukraine, Russia has consistently deported Ukrainian children to annexed Crimea, Belarus, or remote areas of Russia.
It's worth noting that Ukraine has previously repatriated four Ukrainian children who were unlawfully deported by Russia.