Recognizing 7 signs of burnout: When to seek help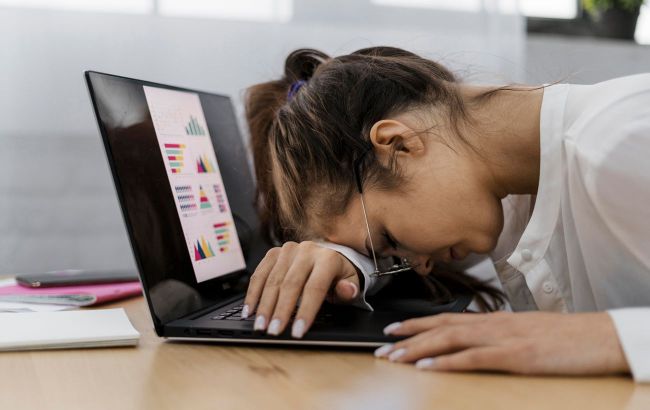 Illustrative photo (Photo: Freepik)
Burnout can take various forms, but in general, it is psychological, physical, and mental exhaustion of your body. In a state of burnout, you will not be able to continue effectively performing all your tasks. When you ignore the signs, you can push yourself to complete shutdown or physical illnesses.
The signs that indicate you are on the verge and how to prevent burnout are explained by RBC-Ukraine based on a post from neurologist and psychotherapist Hanna Cherednichenko on Instagram.
Signs of burnout:
Physical and mental fatigue
Persistent headaches
Hair loss
Sleep disturbances
Irritability
Chronic anxiety
Overeating or, conversely, skipping meals
All these symptoms indicate that your body is exhausted and on the verge of complete burnout. You can sometimes alleviate the situation through rest or by reducing your workload. It's also advisable to seek consultation from a specialist.
How to prevent burnout:
Honestly assess your capabilities. Determine what work you can handle effectively. Discuss this with your supervisor or with yourself if you're in charge.
Seek help. Delegate tasks, and learn to trust others. While no one can do your work better than you, remember that work is never-ending, but you are not.
Get enough sleep. Sleep is essential for memory, focus, and immunity.
Exercise. If you feel too tired to exercise, it's probably because you're not exercising. If you can't do strenuous workouts, at least take an hour-long walk every day.
Take breaks. Plan your relaxation time, such as walks in the forest, meeting with friends, or going to the cinema. If you don't plan it, you won't relax. Practice meditation.
Communicate. Find time to talk with your loved ones.
Consult a psychotherapist.
Earlier, we wrote about what to eat to calm down.
RBC-Ukraine also talked about how to fall asleep quickly if you wake up in the middle of the night.