President's Office reacts to shelling of Kryvyi Rih and names solutions to Russian attacks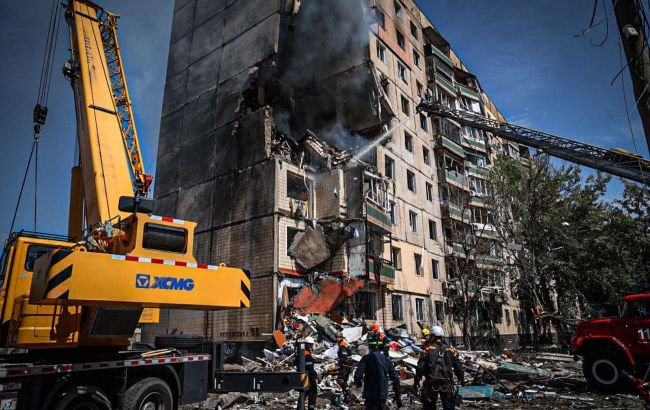 The place of shelling of a residential building in Kryvyi Rih, Dnipropetrovsk region, on July 31 (Photo: twitter.com/Podolyak_M)
Russia constantly shells peaceful cities in Ukraine, as it happened with Kryvyi Rih today. To stop the "genocidal routine" of Russia, Ukraine needs air defense, according to the adviser to the head of the Office of the President, Mykhailo Podoliak.
"This is some kind of genocidal practice... Kryvyi Rih. A Russian missile destroys another residential building. Fifty-three injured. Four dead. Among them, a 45-year-old woman and her 10-year-old daughter," he stated.
Podoliak noted that international law will never work if the aggressor does not see a real force standing behind it.
"Strength begins with closing the Ukrainian sky with missile defense systems," he added.
Shelling of Kryvyi Rih on July 31st
During an air raid on July 31st, Russian forces shelled Kryvyi Rih in the Dnipropetrovsk region. Russia launched two missiles at the city - one at a residential building and another at an educational institution. At the moment, there are known to be four dead and 53 injured.
The number of injured constantly increased from one dead to ten injured. During the search and rescue operation, the structure of a residential high-rise building collapsed.