President's Office: 'It makes no sense for Ukraine to attack Russian territory'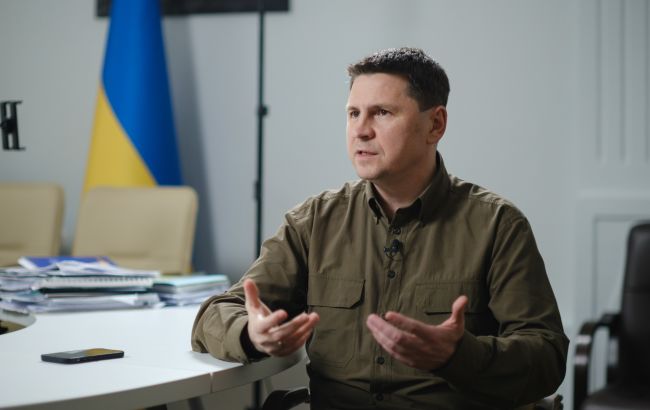 Advisor to the Head of the Office of the President of Ukraine Mykhailo Podolyak (RBC-Ukraine, Vitaliy Nosach)
Ukraine is taking all necessary steps to destroy the Russian occupational infrastructure within its borders, as attacking Russia itself makes no sense, Advisor to the Head of the Office of the President of Ukraine Mykhailo Podolyak said in an interview with RBC-Ukraine.
"We lack enough tools, we would like more of these tools, and we assure our partners: it makes no sense for us to attack Russian territory," he said.
Podolyak added that the war Russia wages on Ukraine will objectively move onto Russian territory due to the "historical process". "When you start a huge invasion and do not win quickly enough, you inevitably lose control of the processes. Russia today is losing control of the processes. There is no power vertical in practice, there are many alternative conflict centers. Look especially at the recent relationships in the triangle of Prigozhin (head of Wagner Group)- Kadyrov (Head of the Chechen Republic, fighting in Ukraine) - Shoigu (Russian Minister of Defense)," he explained.
According to Podolyak, there is the Freedom of Russia Legion (Russian anti-Kremlin groups), which enters Russian territories on its own. There are countless unidentified drones attacking all over Russian territory. "This is an integral part of a lost war," he added.
Podolyak said that the war has not been lost either factually or legally yet. "But Russia is losing this war and, regardless of Ukraine, all these processes of sabotage, active clashes, etc. will take place on Russian territory," he added.
Zelenskyy's stance
Earlier, President of Ukraine Volodymyr Zelenskyy said that Ukraine did not start the war with Russia and would not wage it on Russian territory.
When asked if allies had approached Ukraine over the alleged use of their weapons on Russian territory the Freedom of Russia Legion, Zelenskyy responded, "We (Ukrainians) do not use weapons on Russian territory."
According to a survey by the Razumkov Center, 93% of Ukrainians believe in victory, and half (50%) are convinced it will come by the end of 2023. Most often, Ukrainians consider victory to be the expulsion of Russian troops from the entire territory of Ukraine and the restoration of borders as of January 2014 (47% among those who believe in Ukraine's victory) or the destruction of the Russian army and support for the uprising/collapse within Russia (31%).