Pope Francis says war in Ukraine seems to have no end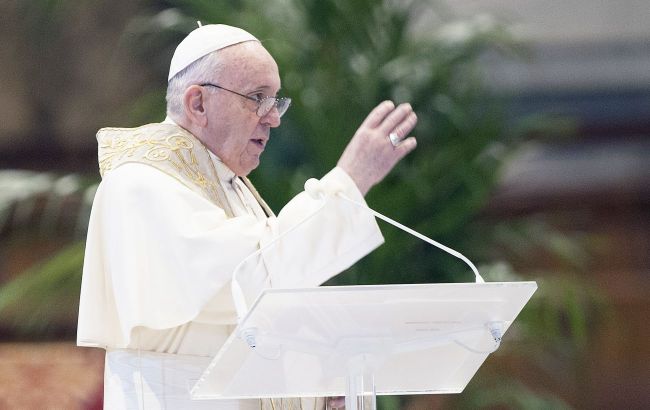 Pope Francis (Getty Images)
Pope Francis has declared that Russia's war against Ukraine shows no signs of ending and called for "forging paths of peace," according to Reuters.
"The tragic reality of this war that seems to have no end demands of everyone a common creative effort to imagine and forge paths of peace," the pope told a religious delegation from the Patriarch of Constantinople.
The Vatican said in a subsequent statement that the pope's envoy, Italian Cardinal Matteo Zuppi, had finished his consultations in Moscow, where he had met one of President Vladimir Putin's advisers, Yuri Ushakov, and the head of the Russian Orthodox Church, Patriarch Kirill.
"The visit aimed at identifying humanitarian initiatives, which could open roads to peace," the statement said. It added that further steps would be taken, but gave no details.
Ukraine-Vatican cooperation

With the start of Russia's full-scale war against Ukraine, Pope Francis has adopted an ambiguous position. He tried to present himself as a peacemaker and called for peace, without saying anything about Russia's guilt.
Pope Francis also said that the de-occupation of Ukrainian territories is supposedly a "political problem."
In April, Pope Francis said that the Vatican was participating in a peacekeeping mission to try to end the "conflict." However, the Office of the President declared that Ukraine had no knowledge of the Vatican's peacekeeping mission and had not authorized such initiatives.
In May, President Zelenskyy met with Pope Francis and said that Ukraine does not need intermediaries in the war. Instead, they emphasized the need to develop a plan for a just peace in Ukraine.
Following this, Pope Francis entrusted Cardinal Zuppi with conducting a peacekeeping mission "to try to help end the war in Ukraine." The Cardinal traveled to Kyiv, where he met with the President and discussed the Ukrainian peace formula.