Polish carriers do not let humanitarian aid through border with Ukraine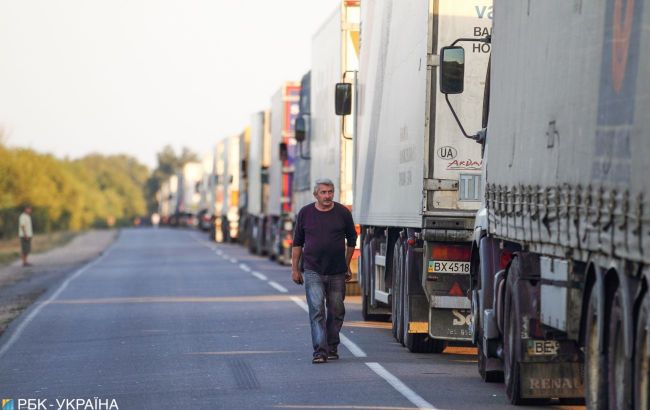 Illustrative photo (Vitalii Nosach, RBC-Ukraine)
On the Polish side of the border, strike participants are not allowing trucks with humanitarian aid heading to Ukraine to pass through the checkpoints, according to the Deputy Minister of Development of Communities, Territories, and Infrastructure of Ukraine, Serhii Derkach.
The official said that the statement about alleged passage of Polish carriers with trucks carrying humanitarian aid and dangerous goods does not correspond to reality.
"We have recorded numerous cases of fuel tanks and humanitarian aid standing in lines," he said.
Derkach also added that information about this situation is being conveyed to Polish counterparts for a response.
"We are waiting for a response on how this correlates with statements about the unhindered crossing of such cargoes," the Deputy Minister said.
According to him, at the Krakovec-Korchova checkpoint, 12,000 trucks were blocked yesterday, the same number near Dorohusk, and 500 trucks were blocked at Rava-Ruska-Hrebenne.
Transporters' strike in Poland
On November 6, Polish carriers have announced the beginning of a strike which, according to them, will last until the beginning of January 2024. As a result, in the first hours, they practically blocked three checkpoints on the border with Ukraine - Yagodyn-Dorohusk, Krakovec-Korchova, Rava-Ruska-Hrebenne, releasing and admitting freight transport no more than one truck in each direction per hour. It is worth noting that these restrictions do not apply to buses, passenger cars, and pedestrians.
At the same time, striking Polish carriers put forward a number of demands, including gaining access to the Ukrainian Shliakh (Way) system.
On November 19, the Minister of Development of Communities, Territories, and Infrastructure of Ukraine, Oleksandr Kubrakov, announced the creation of an assistance headquarters for Ukrainian drivers blocked at the border with Poland.