Poland raises minimum wage: how much Ukrainians will earn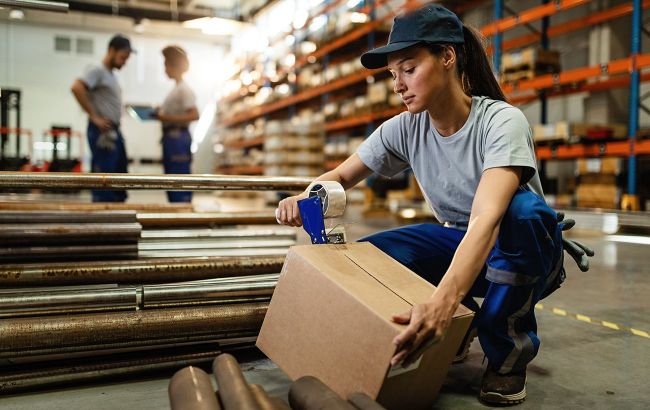 Photo: Work in Poland (Freepick com)
In Poland, the second increase in the minimum wage this year occurred on July 1. The minimum salaries have risen by 110 zlotys, almost 1,000 hryvnias.
Ukrainians working in Poland will now receive around 25,000 hryvnias per month, depending on their employment conditions, according to experts from the migration platform EWL.
How the minimum wage has changed in Poland
The size of the minimum wage in Poland has increased by almost 600 zlotys since the beginning of the year. In January, the minimum wage was raised to 3,490 zlotys gross from the previous 3,010 zlotys.
Starting from July 1, the minimum monthly wages and hourly rates in Poland have increased to 3,600 zlotys gross (approximately 2,783 zlotys net or 25,300 hryvnias) for those working under an employment contract. Individuals working under a specific task contract will receive a minimum hourly rate of 23.50 zlotys gross (210 hryvnias), with the possibility to earn 4,700-5,875 zlotys (42,600-53,200 hryvnias) depending on the number of hours worked per month.
The wage increase also applies to bonuses for night work, parking allowances, pregnancy and childbirth assistance, sick leave, and weekend support.
In 2024, the minimum wage in Poland will increase again. In January, it will rise to 4,242 zlotys gross (38,500 hryvnias) for those under an employment contract and 27.70 zlotys gross (249 hryvnias) per hour. In July 2024, it will increase to 4,300 zlotys gross (almost 39,000 hryvnias) and 28.10 zlotys gross (253 hryvnias) per hour.
Vacancies and earnings for Ukrainians in Poland
For Ukrainians without knowledge of the Polish language and experience, the logistics sector offers the most job opportunities, particularly in clothing and food warehouses where order picking is required. These vacancies are available throughout Poland, with a higher concentration in Lower Silesian Voivodeship (centered around Wrocław), Pomeranian Voivodeship (Gdańsk), Greater Poland Voivodeship (Poznań), and Masovian Voivodeship (Warsaw). On average, one can earn between 5,500 and 6,800 zlotys (49,800-61,600 hryvnias) in this sector.
There are also many vacancies for Ukrainians in the food and processing industries. These jobs involve manufacturing egg packaging, sausage, and various meat products. Such enterprises primarily seek employees in the Greater Poland Voivodeship, while workers are also needed in fish processing companies in the Pomeranian region (Gdańsk).
Closer to the German and Slovak borders, Ukrainians are offered job opportunities in the machinery sector, particularly in voivodeships centered around Wrocław and Katowice.
Poland is looking for recruiters to work online
In Poland, recruiters for online work are in demand as the Polish economy faces a shortage of personnel. One of the most sought-after job positions in Poland is that of a recruiter responsible for talent sourcing and acquisition.
"This job can be done online from Ukraine or Poland as an additional source of income. The salary ranges from 1,000 to 50,000 zlotys (approximately $9,000 to $453,000). Recruitment agencies are willing to invest in training recruiters and offer various bonuses," says Mariana Semeniuk, the director of the Recruitment department at EWL, a migration platform.
Polish companies have orders to fulfill, but there is a workforce shortage. The expert explains that Poland cannot meet the demand with its own resources because the country's unemployment rate is low.
In April, Eurostat reported that Poland had the lowest unemployment rate in Europe, on par with the Czech Republic, at 2.7%.