Pain and tears: Kyiv said goodbye to 'Juice', a legendary pilot who lived in the sky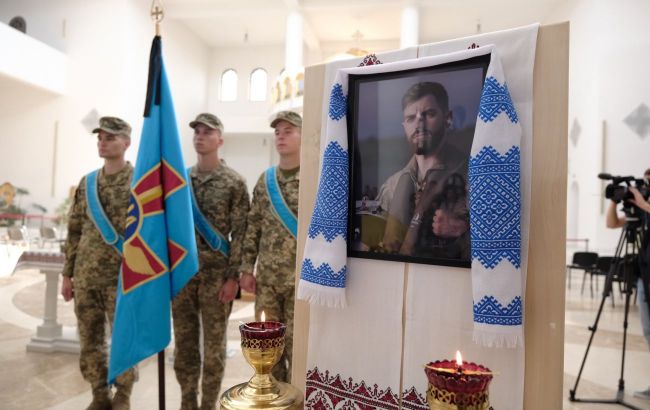 Farewell ceremony for legendary pilot Andrii Pilshchykov (Vitalii Nosach, RBC-Ukraine)
In Kyivv, Ukraine, a farewell ceremony was held for the legendary Ukrainian pilot Andrii Pilshchykov, known by his call sign "Juice". The ceremony drew a large crowd.
The farewell ceremony for the Ukrainian aviator, Captain of the 40th Tactical Aviation Brigade, took place at the Patriarchal Cathedral of the Resurrection of Christ of the Ukrainian Greek Catholic Church (UGCC) in Kyiv.
The funeral ceremony for Andrii Pilshchykov began at around 11:00 AM. The cathedral was filled with many priests and mourners.
Melania Podoliak, the girlfriend of the fallen pilot, was also there.
How "Juice" died
On August 25, the renowned Ukrainian pilot Andrii Pilshchykov tragically lost his life in an aviation accident in the Zhytomyr region. This incident occurred just before Ukraine's Aviation Day during a combat mission. Two L-39 aircraft collided, resulting in the loss of three pilots, including "Juice."
Andrii "Juice" Pilshchykov was known for being a MiG-29 fighter pilot and served as a member of the 40th Tactical Aviation Brigade. Since the beginning of the full-scale invasion by Russian forces, he had been defending Ukraine's airspace and was part of the aerial defense of the capital, earning his unit the nickname "The Ghost of Kyiv."
In 2018, he participated in the international exercise "Clear Sky 2018," where his American counterparts gave him the call sign "Juice". This made him the only pilot in the Ukrainian Air Force officially recognized by a call sign.
"Juice" graduated from the Kharkiv National University of the Air Force.
On August 29, the Commander of the Ukrainian Air Force posthumously awarded military ranks to the fallen pilots:
Major Vyacheslav Mintsi promoted to the rank of "Lieutenant Colonel."
Major Serhii Prokazin promoted to the rank of "Lieutenant Colonel."
Captain Andrii Pilshchykov promoted to the rank of "Major."
Andriy Pilshchykov with the call sign "Juice" was killed in an airplane crash (photo: facebook.com)