Olena Zelenska impressed with trendy autumn look: Kimono coat and bright shirt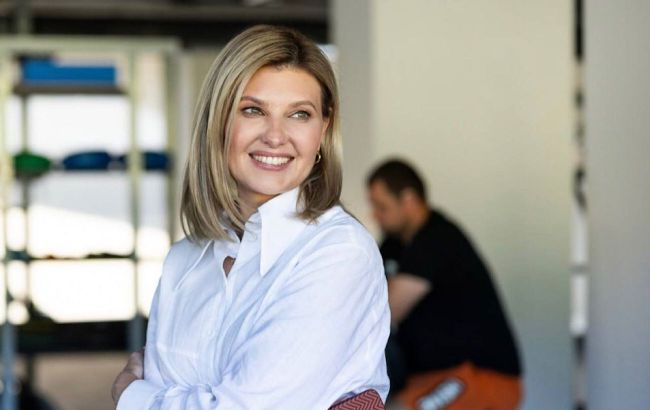 Olena Zelenskaya impressed with trendy autumn look (Photo: facebook.com/olenazelenska.official)
Olena Zelenska always impresses with her outfits, often business-like, especially during international meetings when she is in the world's spotlight. However, even at meetings in Ukraine, Mrs. Zelenska appears in no less exciting looks.
First Lady of Ukraine Olena Zelenska attended a partnership meeting on "Food Reform: Challenges, Achievements, Perspectives." Thanks to this reform, the country has a unique opportunity to shape healthy eating habits for an entire generation, which is of great concern to the president's wife.
She visited one of the preschool institutions in Kyiv, which, by the way, suffered from enemy attacks but is currently operational. Olena Zelenska initiates a healthy eating project for children in educational institutions, and she is actively implementing it.
For the meeting, Olena chose an exciting and stylish outfit. The First Lady opted for black business-style trousers, notable for being comprehensive, as Zelenska often prefers.
She also wore a mustard-colored suede shirt, which emphasized her eyes and matched her hair color. On top, Olena wore a short dark blue kimono coat, almost black, with an exciting feature - slits on the arms.
Completing the look were the First Lady's favorite ankle boots, adding sophistication and emphasizing femininity and diplomacy.
Olena Zelenska's outfit (photo: facebook.com/olenazelenska.official)
The occasion for meeting
As mentioned earlier, Olena Zelenska continues her work on the healthy eating initiative. Therefore, at the preschool institution, she visited the kitchen and spoke with the heads of 12 regional military administrations and representatives of the Kyiv Regional State Administration.
At this meeting, the First Lady emphasized how important it is to take care of the healthy and balanced nutrition of children, even at times when it seems that there are more pressing issues.



Olena Zelenska's outfit (photo: facebook.com/olenazelenska.official)