North Korea-Russia partnership: holding hands with Putin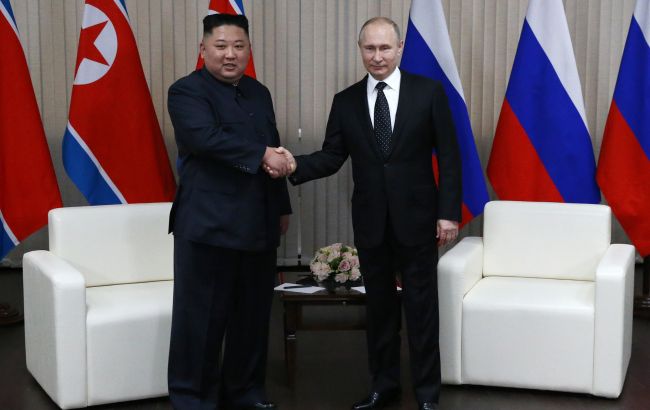 Russian dictator Vladimir Putin and North Korean leader Kim Jong Un (GettyImages)
North Korean leader Kim Jong Un has expressed his willingness to strive for closer strategic cooperation between the DPRK and Russia, "holding hands firmly" with Russian dictator Vladimir Putin, according to North Korean state media KCNA.
Kim sent a greeting to Putin on Russia Day, expressing "full support and solidarity" with the Russian people. He also said that Russia supposedly "embodies the sacred cause of defending sovereign states."
Following this, the North Korean leader declared his readiness for closer strategic cooperation with Russia.
"In his message, Kim Jong Un confirmed his willingness to strive for closer strategic cooperation between North Korea and Russia, holding hands firmly with the Russian President," the report said.
Russia-North Korea cooperation

In July of last year, North Korea recognized the so-called LPR and DPR (Luhansk and Donetsk People's Republics, unrecognised republics of Russia in the occupied parts of eastern Ukraine - ed.), leading Ukraine to sever diplomatic relations with the country. In August, Putin wrote to Kim, stating that their two countries would "jointly expand comprehensive and constructive bilateral relations."
Later, the U.S. State Department announced that Russia was exploring options for cooperation with North Korea in the production of key resources for war efforts. In January 2023, the Pentagon reported that Russia had requested ballistic missiles from North Korea, although no such agreements have been reached thus far.