Night attack on Ukraine: Russia hits Zelenskyy's hometown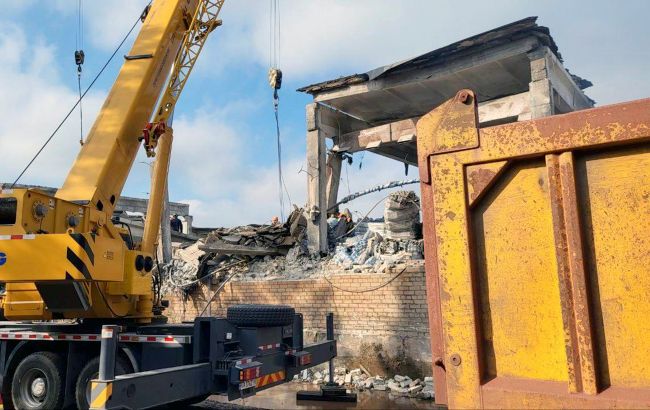 Russia attacked Ukraine on June 13
Russia carried out another massive air attack on Ukraine on the night of June 13. As a result, a five-story building in Kryvyi Rih (Dnipropetrovsk region in southern Ukraine) was hit, resulting in fatalities among the residents. RBC-Ukraine has collected all the known details about the aftermath of the night attack.
Russia attacked with 14 missiles and drones
According to preliminary data by the General Staff of the Armed Forces of Ukraine, the enemy used 14 X-101/555 cruise missiles, 10 were destroyed by Ukraine's air defense. The Russians launched the missiles from Tu-95MS strategic bombers in the Caspian Sea area.
Russia also used 4 Shahed drones, one of which was destroyed.
Kyiv
All targets in the airspace around Kyiv were identified and successfully destroyed by air defense forces tonight. There is no current information on casualties or destruction.
Kharkiv
Kharkiv was also under drone attack last night. As a result, a municipal enterprise and a warehouse were damaged. Emergency services are working at the sites. Preliminarily, there are no casualties.
Kryvyi Rih
The assault had devastating consequences for Kryvyi Rih, situated in the Dnipropetrovsk region.
The head of the Dnipropetrovsk Regional State Administration, Serhii Lysak, said that three cruise missiles were shot down in the region. But some missiles hit civilian objects. A five-story building was ruined, and a fire broke out.As a result of the strike on a five-story building in Kryvyi Rih, at least 6 fatalities have been confirmed. Another 25 people have been injured, including 10 in critical condition and 3 in extremely critical condition, as Vilkul said. Additionally, it is possible that there are 7 people trapped under the debris of the building.
According to the head of the City Military Administration, Oleksandr Vilkul, the occupiers used six missiles that hit five targets: a high-rise building, enterprises, and warehouses. Hits on a private enterprise resulted in 3 casualties. There might be people trapped under the rubble of a warehouse. Four more injured people have been reported at another location.
As a result, significant damage has been inflicted on private houses, an automobile factory, and vehicles. Currently, firefighting and debris removal operations are underway at the high-rise building.
Zelenskyy's reaction
The President of Ukraine has released a video showing the aftermath of the Russian strike on a building in Kryvyi Rih and promised that the occupiers would be held accountable for each missile.
"Once again, the terrorists' missiles, the Russian killers, proceed their war against residential buildings, ordinary cities, and people. Unfortunately, there are casualties and injuries. The rescue operation in Kryvyi Rih is ongoing. My condolences to all those who have lost their loved ones. There will never be forgiveness for the terrorists, and they will be held accountable for every rocket they launch," Zelenskyy wrote.
Russia strikes again in the morning
After the night attack, Russia carried out another air raid once again in the morning. According to later reports from the Ukrainian Air Force, the occupiers launched another attack from the Caspian Sea with three Tu-95MS bombers. According to preliminary data, only one cruise missile reached Ukraine this time, it was destroyed by Ukrainian air defense systems.