New railway connection between Poland and Ukraine soon to be open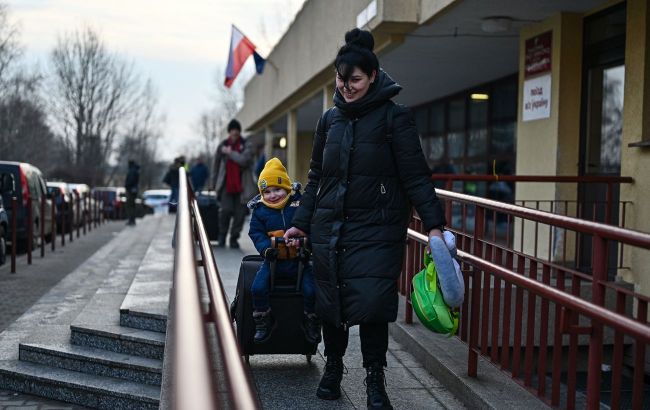 Ukrainians at Przemyśl station in Poland (gettyimages.com)
Poland plans to launch a passenger train service from Przemyśl to the Ukrainian station in Nyzhankovychi. The railway line was repaired a year ago.
The new connection has not yet been opened due to formal and organizational obstacles, according to yavp.pl.
A railway line runs from Przemyśl to the border town of Malhovice, which continues into Ukraine. In February 2022, Polish and Ukrainian rail operators began to restore a route that had been unused for decades. The railway infrastructure, including passenger stops, was restored, but the service has not yet been launched.
The current route to Przemyśl is serviced by the Polish company Polregio. The future transport organizer should be the marshal of the Subcarpathian Voivodeship, but no tentative launch date has been announced, as reported by rynek-kolejowy.pl.
It is noted that formal and organizational obstacles are hindering the launch of the connection from Polish Malhovice to Nyzhankovychi. The start date for train services depends on obtaining the necessary technical infrastructure from Ukrainian Railways for passenger registration at the border.
There are still no access tracks to the border platform in Malhovice, and official and legal agreements are still being worked out to allow the rolling stock of the Polish carrier to operate on the Ukrainian Railways tracks.
Polish officials report a new obstacle – no insurance company has been found willing to insure the transport activities of the Polish carrier Polregio in Ukraine due to ongoing military activities. Local authorities say it is currently impossible to specify the opening date of the new connection, and this year trains are unlikely to appear in the new schedule.
As of October 15, a new railway route with a transfer at the Rava-Ruska station has been operating between Ukraine and Poland.
Passengers should be aware that starting from July 26, Ukrainian Railways only sells tickets for popular international trains online. Tickets for long-distance Polish routes can only be refunded through ticket offices.