Navy confirms damage to Russian ship near occupied Sevastopol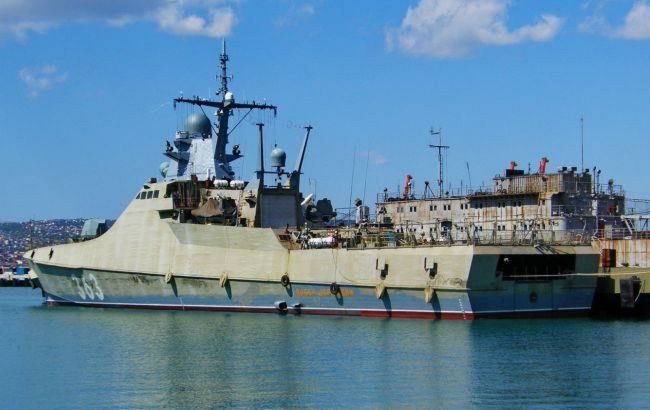 Pavel Derzhavin ship (vpk.name)
The Ukrainian Navy has confirmed damage to the Russian Black Sea Fleet's ship Pavel Derzhavin in the area near the temporarily occupied Sevastopol in Crimea last night. Reports of the attack on the vessel had previously circulated on social media, according to the spokesperson of the Ukrainian Navy, Dmytro Pletenchuk.
"We can officially confirm that this ship has sustained damage," he said.
However, the officer did not specify how this might have occurred, stating, "I cannot provide you with any information regarding the circumstances of this incident, let's call it that, but the fact remains... Regardless of how it happened. This can be seen as another hint for the Russian occupiers that it's time to leave our Sevastopol," said Pletenchuk.
Explosion on board the Pavel Derzhavin ship
On the eve of the incident, media and local Telegram channels reported that the patrol ship Pavel Derzhavin might have exploded due to a mine.
Meanwhile, the Russian Ministry of Defense has not disclosed any information about the incident.
What is known about the ship
The patrol ship Pavel Derzhavin of Project 22160, Vasiliy Bykov type, is equipped with:
8 launchers for "Kalibr-NK" cruise missiles
2 launchers for "Redut-M" anti-aircraft missiles
2 A-190 100mm caliber artillery installations
2 RBU-6000 rocket bomb launchers
2 torpedo tubes with a caliber of 533 millimeters
In June 2022, the Pavel Derzhavin reinforced its armament by installing the Tor-M2KM anti-aircraft missile system at the stern.
In September, the Ukrainian Defense Forces struck the Orjonikidze Repair Plant in Simferopol, causing damage to the landing ship Minsk and the submarine Rostov-on-Don. According to media reports, the attack was carried out using Storm Shadow missiles.