NATO can convoy Ukrainian ships in the Black sea: U.S Admiral explains how it can work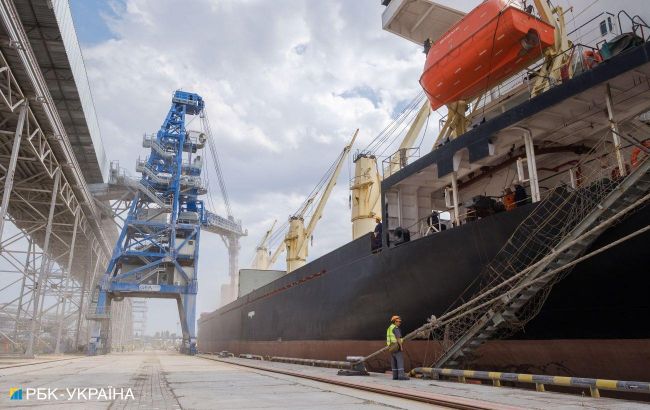 NATO ships can defend Ukrainian vessels in the Black Sea (Photo: Vitalii Nosach-RBC-Ukraine)
NATO ships can accompany vessels with Ukrainian grain in the Black Sea after Russia's withdrawal from the 'grain deal,' according to the report of James Stavridis, a U.S. Admiral and Supreme Allied Commander of NATO's European Command (2009-2013).
"Under international law, such blockades are illegal. There is no state of declared war between the parties (recall this is, in Putin's own words, merely a "special military operation") and it would directly curtail freedom on the high seas. Putin is also weaponizing hunger by cutting food supplies to North Africa and other parts of the global south. Ukraine is among the world's largest exporters of several key grains, fertilizers and flower oils," emphasized Stavridis.
According to him, one of the mechanisms to end the blockade could be a practice used in the 1980s in the Persian Gulf when Iran blocked the Strait of Hormuz, disrupting 25% of the world's hydrocarbon supplies. During that time, flags on Kuwaiti oil tankers were changed to American flags, effectively making them assets of the United States. However, a more convenient approach would be NATO escorting trade caravans with their forces.
"How would it work? Probably by bundling the merchant craft into three-to-five ship convoys, each escorted by a couple of guided-missile warships," wrote he.
Stavridis also pointed out that such a plan could be implemented either by NATO or a coalition led by the USA. The United Nations cannot take a leading role due to Russia's ability to veto anything that comes from the Security Council.
As known, recently, the Federation of Transport Employers of Ukraine released a statement stating that due to the blockade of ports, Ukraine has lost at least 10% of its GDP, 18 billion dollars in foreign currency revenue, 500 thousand jobs, and 135 billion hryvnias in taxes.
"Grain deal"
Last week, the Kremlin announced its withdrawal from the "grain deal," which had been in effect for a year and allowed for the safe export of Ukrainian foodstuffs through the ports of the Black Sea.
After leaving the "grain agreement," Russia has been launching almost nightly attacks on the south of Ukraine. Specifically, missile strikes have been carried out on Odessa and its surrounding regions.
Moreover, on the night of July 24, Russian forces attacked the river port of Reni on the Danube, which is located near the border with Romania.