Mines detonate on Ukrainian-Belarusian border: Railroad damaged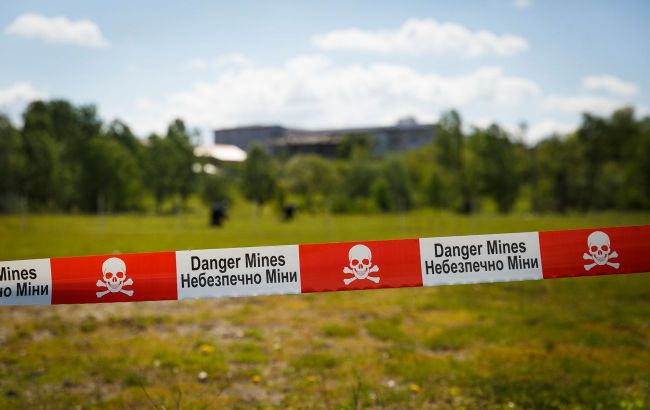 Mines detonated on the border of Ukraine with Belarus, damaged the railway (Photo: Getty Images)
On the Ukrainian-Belarusian border during the night of August 29, several anti-tank mines detonated due to a lightning strike, as reported by "Belaruskі Hayun."
The explosion of anti-tank mines occurred in the territory of the Ovruch district in the Zhytomyr region, approximately 800 meters from the Belarusian checkpoint "Slovetchno" in the Gomel region.
The explosion's probable cause is lightning hitting one of the power poles. As a result of the blast, it is alleged that the bridge support and railway tracks were damaged.
Mines detonated on Ukraine's border with Belarus, damaging the railroad (photo: t.me/Hajun_BY)
Later, in a comment to "Radi Liberty," Andrii Demchenko, spokesperson for the State Border Guard Service, confirmed this information.
"Based on the information I possess, no one was harmed. I would like to emphasize that there are restrictions on citizens' movement along the border, especially near the border. Thus, mine barriers on certain directions vital for Ukraine's security pose a threat only to those who intend to approach us with aggression," Demchenko emphasized.
Border situation with Belarus
Lieutenant General Serhiy Nayev, the Commander of the Joint Forces of the Armed Forces of Ukraine, reported that Russia has withdrawn all its troops from Belarus. It has shifted them to the Kupiansk direction. However, training exercises are planned for September, which may lead to an increase in military presence.
"The situation on the border with Belarus is under our complete control. Sudden changes are not anticipated. At present, the Russian ground component has been fully withdrawn from Belarus and is part of the reserve of the united grouping of Russian forces, some of which are advancing in the Kupiansk/Lyman direction," he noted.
Meanwhile, in September, a series of joint exercises of the CSTO is planned on the territory of Belarus, which could be utilized as legitimization for an increase in military presence, Nayev reported.
"Considering that Russia has not yet achieved its strategic goals, the search for new pretexts for the resumption of active actions from the northern direction is not ruled out. Thus, the organization of provocations and diversions on the Ukrainian-Belarusian border is not excluded," added the General.