Messi will receive Ballon d'Or 2023 and make history: Details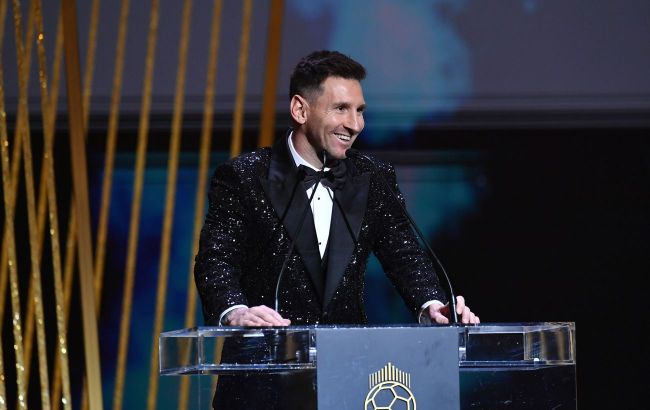 Lionel Messi is set to add to his collection of prizes (Photo: Getty Images)
Insiders predict that the American "Inter Miami" player and Argentine national team star Lionel Messi will win another "Golden Ball," according to Sport.es.
The 36-year-old Argentine is set to secure his eighth career award from the iconic France Football publication. The "Golden Ball" award ceremony will occur on October 30 in Paris.
Messi has become the favorite for the leading individual football award after winning the 2022 World Cup. The Argentine striker was recognized as the Best Player of the tournament. Messi's statistics in the World Cup were impressive: 7 matches, 7 goals, and 3 assists. Moreover, he won the Ligue 1 title with the French club Paris Saint-Germain (PSG).
Last year, Karim Benzema won the "Golden Ball." The French forward surpassed Sadio Mane (Liverpool) and Kevin De Bruyne (Manchester City) in the voting. Messi didn't even make it to the list of contenders for the award.
Lionel Messi in 2023
In the 2022/23 season, Messi played for the French club Paris Saint-Germain. He participated in 41 matches across all competitions, scoring 21 goals and providing 20 assists for the team.
In the summer, Messi signed a 2.5-year contract with "Inter Miami," a team based in Florida. The Argentine forward will reportedly earn between 50-60 million dollars per season with the Florida-based team. Messi's former Barcelona teammates Alba and Busquets also joined "Inter Miami," leading the team to victory in the Cup of Leagues USA and Mexico.
Messi started in the qualifiers for the 2026 World Cup with the Argentine national team. In the first qualifying round, he scored the only goal in a match against Ecuador (1:0). The free-kick goal allowed him to equal David Beckham's record for the most goals from set-pieces.