Lookout App for people with visual impairments available in Ukrainian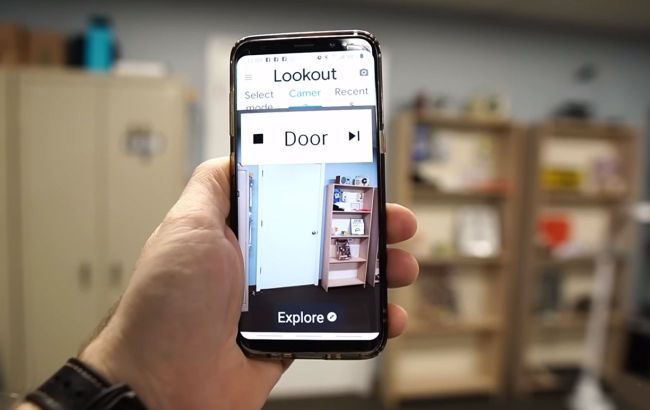 The Lookout app is now available in Ukrainian (screenshot from the video)
The Lookout application, which is based on artificial intelligence and helps people with visual impairments perform daily tasks more easily, was released by Google back in 2018.
However, on September 6, an announcement about the release of the Ukrainian version of the application appeared in the company's official blog.
Currently, the Ukrainian localization allows users to utilize one of three modes:
"Text",
"Documents",
"Object recognition".
The "Text Mode" (which is enabled by default in the app) is best suited for situations where the user needs to have a small amount of text spoken aloud. In this mode, you can sort through emails or recognize pointers and signs.
Developers caution that if the text cannot be recognized clearly, you can change the screen orientation from horizontal to vertical (or vice versa) or zoom in or out on the text.
The "Document Mode" allows you to have entire pages with printed or handwritten text read aloud.
The "Exploration Mode," utilizing the camera, allows for object identification in the user's surroundings, which can be particularly helpful for individuals with visual impairments in unfamiliar environments.
Currently, this mode is in beta testing and may not be as accurate as others.
Overall, according to the Ministry of Health, the Lookout app is available in 24 languages.
The English version offers the most comprehensive functionality, allowing users to, for example, recognize the denomination of banknotes, read barcodes on food packaging, or describe graphic images using their smartphone.
The Lookout app works best on devices with more than two gigabytes of RAM and an Android operating system version 6.0 or newer.
As previously reported, in Ukraine, the websites of government agencies will become more accessible for people with visual, hearing, or motor impairments.
It was also mentioned earlier that Ukraine has simplified the procedure for obtaining disability status for military personnel.
Additionally, we reported that the Ukrainian Parliament has adopted a bill expanding the list of people with disabilities in Ukraine.