Lithuanian leader: NATO invitation strengthens Ukraine, Russia sees caution as weakness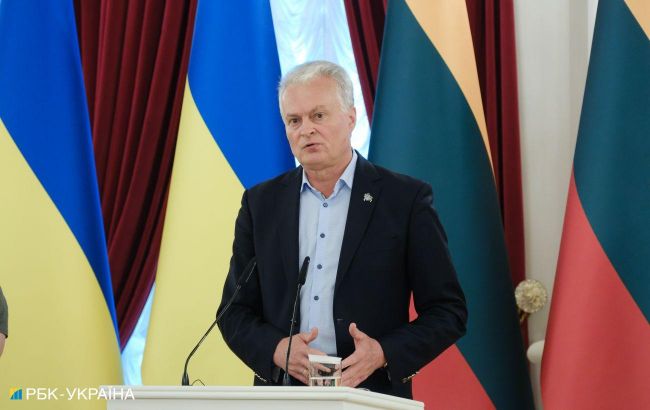 Lithuanian President Gitanas Nauseda (RBC-Ukraine, Vitaliy Nosach)
NATO leaders should be more courageous in considering Ukraine's aspirations for membership at the Alliance summit in Vilnius, as it will enhance Kyiv's effectiveness on the battlefield, while Moscow will perceive any caution as a weakness, says Lithuanian President Gitanas Nauseda in an interview with Reuters.
He advised NATO allies not to heed concerns that Ukraine's accession to the Alliance would provoke Russia.
"We should not hesitate to take bolder decisions because otherwise the Putin regime will decide that the Western allies are too weak, (that they should be) pushed to the corner and they will surrender", Nauseda said
He noted that "stronger wording on Ukraine's (membership) perspective would for sure increase the fighting spirit of Ukrainian soldiers on the battlefield."
The Lithuanian leader believes that Ukraine may be offered a promise of an easier path to NATO membership after the end of the war, as well as greater military support.
However, according to him, there are some countries that are "cautious about the stronger wording on Ukraine's perspective". But he already sees some shift in the minds of their leaders
"We all understand that right now, in the midst of the war, Ukraine is not able to join NATO immediately. We understand that. Ukrainians understand that. But we need to create procedures, how to proceed ... so there is no wasting of time if the war is over and victory is on Ukrainian side," he said.
According to him, several countries are preparing an "additional portfolio of commitments (military support)" for Ukraine to announce at the NATO summit.
Nauseda also said he expects Ukrainian President Volodymyr Zelenskyy to come to Vilnius despite his warning that he sees no point in going if Kyiv is not given a political signal at the meeting.
"I hope he will be here and he will play an important role in the decision-making in Vilnius," Nauseda said.
NATO Summit in Vilnius
The Alliance summit will take place on July 11-12 in Lithuania. Ukraine aims to get a political decision on support for its accession. Zelenskyy believes that the country has all the grounds for it.
Ukraine also wants to receive security guarantees from NATO members, which cannot be an alternative to membership. The Alliance is already considering several options.