'Like waking up on February 24': What Ukrainians in Israel say about country's situation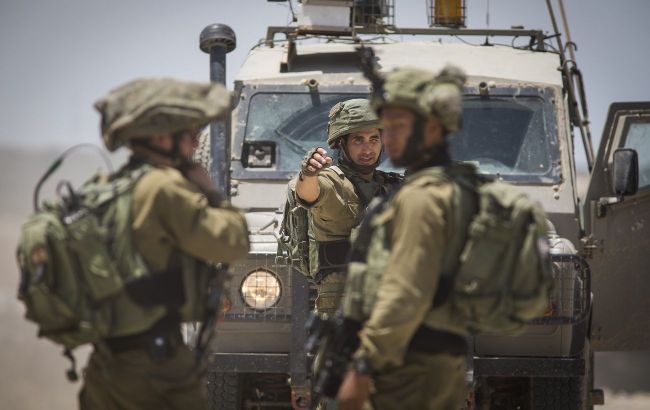 Photo: Israel Defense Forces (Getty Images)
In Israel, an operational headquarters continues to work to assist Ukrainians. There are many Ukrainians in the country who moved after the beginning of the full-scale Russian invasion of Ukraine.
RBC-Ukraine interviewed Ukrainian citizens about the situation in the country, how the alarm system is working, and how people are helping each other in this tough time.
People are donating blood largely and providing housing to the victims
Ukrainian Oksana Mitnitska is currently in a small town in northern Israel, not far from the cities of Nazareth and Nof HaGalil. It's about a 30-40 minute drive from Haifa.
"Next to us is the Israel Defense Forces Ramat David Airbase. Given the number of takeoffs happening there now, pilots are very busy. This is one of the few airbases in Israel that opens its doors to visitors once a year, and you can see the military equipment used by the IDF," she says.
According to her, all services and alarm systems are working very smoothly, like clockwork.
"Israel is a country that was basically formed by immigrants from different countries. People speak different languages, and notifications are also made in different languages, with a special mobile app. I have the feeling that people are under proper protection. People are very united, and patriotism is high. When there was a notification that blood was needed for the injured, a lot of people came to Haifa. They filled the entire space in the hospital. There were so many volunteers that they started giving out numbers, and not everyone could be accommodated," Oksana adds.
Although the escalation is mainly in the south of the country, there are many rocket fragments falling in the center of the capital. In the north of the country, a training alert sounded. There are discussions about the possible escalation from the north, from Lebanon (the Lebanese group Hezbollah supports Hamas terrorists).
Photo: Ramat David Airbase is one of the three main air bases of the Israel Air Force (wikimedia.org)
"The uniqueness of Israel is that there is currently no overland border where people can leave the country fast in case of a crisis. But I don't see a widespread mood among the people to leave. People are not panicking; people are united. All bomb shelters are open. In many new buildings, there is a specially reinforced room called a "mamad" where one can take shelter in case of danger. The building where I live is older, but it has a shelter and all the conditions for staying," explains the interviewee.
There is a lot of information in local Israeli media about people from the northern region inviting residents from the south and offering them housing.
"It's not about renting apartments. When there is trouble, people open their doors. It is normal in Israel," says Mitnitska.
Local residents are also discussing why Israeli intelligence did not react in time. However, others say that this is not a current issue because the first priority is to overcome the threat, clear out the terrorists, and return the captives. They also note that the trust in the Israeli army is extremely high.
"There is also an internal political crisis in Israel. However, this is a separate complex and long story. In Israel, there are protests against judicial reform. There is a so-called resistance committee, but it quickly reprofiled itself and began providing operational assistance in the current situation. Currently, political forces have consolidated and are ready to work together. I have a feeling that all the services in Israel work even more smoothly during such situations," the woman says.
"War correspondents draw parallels with the Ukraine war"
Ukrainian TV host and journalist Kateryna Trushyk, who is currently in Israel with her children, is in Haifa, a city in northern Israel.
"You know, yesterday I had the feeling as if I woke up on February 24th. All this news about explosions, air raid alerts. Terrorists were killing civilians. Today, there are very few people on the streets of Haifa, and not many cars either. Yesterday, there was no one on the streets at all. Today, people have started coming out slowly. Usually, there are many children on local playgrounds, but today there are only a few," the TV host says.
Photo: Hamas attacks Israeli cities (twitter.com/yaseenizeddee)
Local residents say that what is happening now in Israel has never happened before. Both in terms of the number of casualties, the number of wounded, and the audacity of the terrorists.
"And it is despite the fact that Israel has been in a state of war for over 70 years. The way terrorists behave in Israel – it all reminds me a lot of the atrocities of the Russians in Ukraine. Even on Israeli TV, I heard war correspondents drawing parallels and saying that it's similar to what's happening in Ukraine right now," she adds.
"People trust the army and know that the armed forces will protect them"
In addition to general notifications, residents of Israel constantly receive text messages with phone numbers to contact for psychological assistance, Kateryna Trushyk says.
"In Israel, there is a specific notification system for the population about air alerts, which is different from the Ukrainian one. In Israel, the alerts are activated directly where there is danger, not in a specific city but in a particular area. By the way, Israel has already transferred this notification system to Ukraine, and as far as I know, it is currently being adjusted to Ukrainian frequencies," she adds.
Kateryna's seven-year-old son attends a local school and knows how to behave in case of an air alert. When the school year began, children had training where they were told how to act when they heard an air alert. And now he knew exactly what to do.
Photo: People's trust in the Israel army is extremely high (facebook.com/tzahalonline3)
"Yesterday, he packed his things, toys, put water in his backpack. He prepared himself an emergency suitcase and put it near the door, asking when we would go to the shelter. We evacuated from Bucha, so he already had such an experience before," the interviewee says.
In Haifa, people are in a certain state of alertness because there is a likelihood that Hezbollah from Lebanon may join the conflict. However, even the most experienced experts cannot provide a complete assessment because terrorists are always very unpredictable.
Kateryna believes that the Israeli army may not have reacted immediately because it was expecting a possible attack from the north. The enemy had transferred a lot of Iranian weaponry to the north the day before, widely using reconnaissance drones. And perhaps at this time, they tried to break through the defense from the other side, from the south.
"I think if there is criticism of the Israeli army, it could even be inspired from the outside. Because the Israeli nation is very united, and people trust the army very much. Everyone here says: now we are all united, we will figure things out after victory, now we need to work on defeating the enemy. People trust the army and know that the armed forces will protect them. Just like we in Ukraine believe in our Ukrainian Armed Forces," Kateryna notes.
Israel's military-political cabinet has supported the implementation of Article 40 Aleph, which means the official declaration of war.
You can read all the details of the attack on RBC-Ukraine.
For Ukraine's and the world's response to the events in Israel, check out RBC-Ukraine's article.